Inside Baseball MLB Notes | Kershaw injury unsettling for Roberts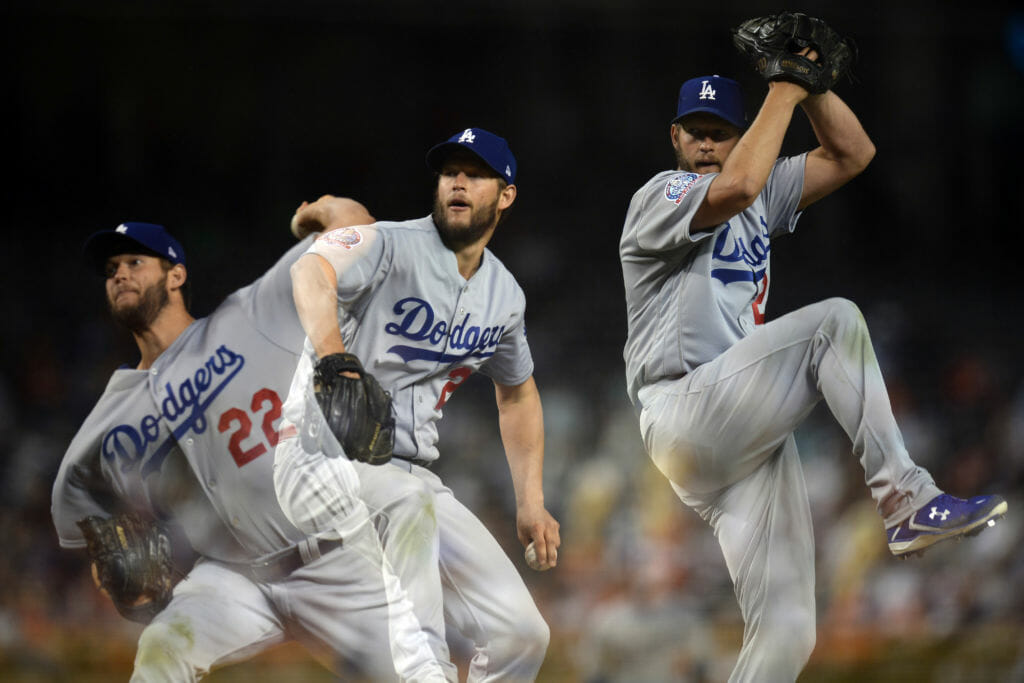 Inside Baseball from Jon Heyman brings you news, notes, rumors and more from all 30 MLB teams. For Jon's best guess as to where each of his top-20 trade targets ends up this deadline, click here.
And now, around majors:
Arizona 

Diamondbacks
— They look like a candidate to pursue an extra starting pitcher following a second (Robbie Ray) rotation injury concern.
— Matt Koch has performed very well as an injury replacement in the rotation. But with Kris Medlen getting rocked in his cameo start and Braden Shipley's star dimming a bit, scouts do figure the — D-backs will be in the market for a starter this summer. The trade of Anthony Banda to the Rays left them with a "depth issue" in terms of starters.
— Taijuan Walker is out for the year and there's no timetable yet for Robbie Ray. Shelby Miller could be back in June, so that could help.

— Jake Lamb's shoulder is still at issue. He has been expected to be back sometime in May.
— Clay Buchholz, who signed a minors deal with the D-backs, has a connection from Boston with manager Torey Lovullo and GM Mike Hazen. That seems like a long shot.
— About the only thing going wrong in games is the failure of any D-backs reliever to accept the team's bullpen cart. (Houston's Collin McHugh was the first to employ the vehicle.)
— Walking isn't hurting D-backs relievers apparently. Among other strengths, Arizona is 21-0 when leading after eight. New closer Brad Boxberger has been excellent.
Atlanta Braves
— There was logic in signing Jose Bautista in that they wanted more power, but one scout suggested it was a bit of a gamble since the chemistry is so good. "A little bit dicey," is the way he put it. Coincidence or not, the previously-hot Braves were swept by the Giants upon his ascension.
— Top third base prospect Austin Riley was promoted to Triple-A, and is a clear candidate for promotion should the Bautista third base gamble not pay off.
— About the best current twitter account belongs to @BrandonMcCarthy, who had a funny exchange with @Bruce Bochy over the weekend.
— Dansby Swanson was on the DL with left wrist inflammation.
— GM Alex Anthopoulos kindly credited the "outstanding" work of the previous regime drafting and developing young talent. He means GM John Coppolella, who was banned from MLB for international rules violations, and also his predecessor Frank Wren.
— Mike Soroka is really amazing when you consider that he's only 20 and is from an ultra-cold part of Canada, Calgary (not that most of Canada isn't cold).
— Ronald Acuña Jr.'s BP is something to behold.
— The Braves did broach the subject of a multiyear deal in spring, but people close to the situation say there was never a $30 million offer, as was reported (or $28 million as another rumor went, or any offer at all).
— There is no evidence of any significant talk of a long-term deal for Ozzie Albies – yet another young Braves star — in the spring.
— Many of the companies in the business of lending or providing up-front money to future stars for the promise of big payments later have been pursuing Acuña, one of the best prospects in years, and folks are keeping an eye on his decision. His agent Peter Greenberg declined to comment on those pursuits.
— Danny Knobler did a story on the Braves kids for Bleacher Report.
— At least two big-time free agents are from the deep south, and probably wouldn't mind winding up with the Braves. Brian Dozier is from Georgia and is close with Chipper Jones, and Craig Kimbrel is from Huntsville, Ala. Plus, Kimbrel started with the Braves.
Baltimore 

Orioles
— GM Dan Duquette said in this space last week that the Orioles would likely wait until Memorial Day to see what they had, and even after a six-game losing streak last week, another Orioles person said he believed that was still the case.
— If they do trade Manny Machado — as seems logical — while everyone's figuring they need arms, they need some gloves, too, especially on the infield, and a person familiar with their situation said infielders would be a focus, too. Yet another person liked our suggestion of the Cubs for Addison Russell plus more from two weeks ago.
— Machado will just be a rental if he is traded. As expected, there's no way he grants a window to negotiate a long-term deal with a new team – nor should he. "Everyone has waited a long time to be a free agent," Machado said to Bill Shaikin of the Los Angeles Times.
— Some scouts suggest Machado was much better at third base, no matter how much he loves shortstop. He looks good to us, but the numbers bear out the thoughts of those scouts, which show Machado as about average at short (but of course, he's a spectacular hitting shortstop). At third he is anything but average.
— Dylan Bundy allowed four home runs before getting an out in a 10-run Royals first inning, and earned a -19 game score, the second-lowest since 1940, according to Eduardo Encina of the Baltimore Sun, only better than Mike Oquist from the A's getting a -21 game score Aug. 3, 1998 vs. the Yankees. And guess what? These Royals are no '98 Yankees!
— With that game, the Orioles sank further into the abyss. Afterward, said Buck Showalter: "I have confidence we have good people and it will turn around t some point."
— Kevin Gausman hit 98 mph. Not much is going right, but he is showing signs of fulfilling his potential.
— Alex Cobb has looked much better his last two times out, but scouts say the changeup still isn't all the way back to pre-Tommy John days.
— Brad Brach's stuff is "a little down," according to one scout, who nonetheless says, "I'd still take (Brach)" 
— The Orioles lost 12 straight road games.
— A second person said he believed Cal Ripken Jr.'s interests have changed, and that he would not be interested in becoming manager. The rumor was heard two years ago that Ripken could be a candidate to become O's manager if GM Dan Duquette had left at the time to be Jays president. Both manager Showalter and Duquette are highly regarded, but with the O's struggling like this, and both men's contracts up, there's going to be speculation.
— Ken Rosenthal of The Athletic wrote about the Orioles' situation, with so many key folks in flux.
Boston Red Sox
— There was some concern about David Price after he experienced numbness in his fingers, but they were relieved when it turned out to be carpel tunnel. Still, the Red Sox look like a candidate to add a starter.
— Drew Pomeranz looked better against the Yankees than in his previous outing.
— Tyler Thornburg (thoracic outlet surgery) is said to be progressing.
— The Red Sox, while mostly winning, lost 8.5 games in the division in 19 days.
— Craig Kimbrel, only 29, became the quickest to 300 saves. Kimbrel has a big-time free agency case, and it'll be interesting to see if he breaks the record for biggest contract ever for a reliever.
— Mitch Moreland looks like a very good signing, at $13 million over two years, even though they later signed J.D. Martinez. Moreland homered in three straight games, then did so again Wednesday in New York.
— Hanley Ramirez is also hitting well, giving the Red Sox a lot of options, especially since Martinez is the DH (and occasional OF).
— Jackie Bradley Jr. was on a 5-for-50 streak (24 K's), which could lead to Martinez playing some more outfield, with both Ramirez and Moreland in the lineup.
— Mookie Betts was the AL slugging percentage leader, and by a lot. He looks like an MVP candidate. (We thought he should have won in 2016, when the award went to Mike Trout).
— Right-handed starting pitchers started 1-15 with a 7.48 ERA in their first 26 games against Boston, noted @PeteAbe of the Boston Globe.
— Andrew Benintendi was 2-for-28 vs. lefties and 8-for-55 on the road at one point, as @PeteAbe also noted.
— According to STATS, Chris Sale had 371 strikeouts his first 40 games with the Red Sox, which is second-best in the last 100 years to Randy Johnson's 417 K's his first 40 with the D-backs.
— Blake Swihart has been speculated to be a trade candidate for teams in need of a catcher (Mets?). But the reality is, Swihart's best value is probably as a versatile hitter. Some scouts doubt he could handle a regular catching job from a defensive standpoint.
— Boston, meanwhile, is getting very little production out of the catching position.
— One of Boston's top pitching prospects, Jay Groome, will undergo Tommy John surgery, the team announced.
Chicago Cubs
— Ian Happ, our choice as top breakout player, had a 46.6 percent strikeout rate. Which isn't going to cut it. He looked like a candidate for demotion.
— There are concerns about the offense early. Anthony Rizzo, Addison Russell, Ian Happ and Wilson Contreras are among Cubs underperforming.
— There was a scare when Javier Baez, a burgeoning superstar, had to leave a game early. But he appeared to be fine.
— Teddy Greenstein of The Chicago Tribune shared his remembrances of Sammy Sosa and his ego.
— The 20th anniversary of Kerry Wood's 20-strikeout game was this week. One of the better stories on that event was by Chris DeLuca of the Sun-Times, done 12 years ago.
— Good job by Yu Darvish and Jon Lester donating $10,000 apiece to ALS following the death of Stephen Piscotty's mother Gretchen due to the disease.
— Darvish is on the DL with the flu. One idea when he returns might be to call up a favorite catcher, Chris Gimenez, to be a personal catcher for Darvish.
— Adam Greenberg, who rose to bat again seven years after suffering a severe head injury in his first Major League at-bat when he was beaned, is well known for his perseverance. But lately, he is also demonstrating determination, energy and guts since his playing days; his latest long shot is a run for a seat as a Republican state senator of Connecticut.
Chicago 

White Sox
— While the big-league team continues to struggle, the future looks very bright. The 100-mph-throwing Michael Kopech is probably the next big prospect to get the call.
— Dylan Cease, acquired along with Eloy Jimenez and two others in the Jose Quintana deal, is dominating at Class-A Winston-Salem (N.C.) and probably due for a promotion to Double-A. He hit 100 himself four times in a recent game.
— Jimenez had eight straight multi-hit games and should be up at some point this year. The Cubs' comp for him was Carlos Lee, who had a great career (but mostly with the bat). But Jimenez is determined to improve his all-around game, as Scott Merkin of MLB.com wrote.
— One scout had some rough words for the White Sox: "They don't play winning baseball. There's not a lot of instincts on display. They find a way to lose baseball games." But people around the team suggest the team just isn't very good yet.
— Manager Rick Renteria wants to see fewer walks, as Daryl Van Schouwen of the Sun-Times writes.
— Danny Farquhar, who was released from the hospital after enduring a terrible scare from a brain hemorrhage following an aneurysm, stopped by to say hello to teammates this week, and people were encouraged by how he looked. Doctors aren't clearing him to pitch this year but they haven't ruled out next year. The former pitcher Kent Mercker returned from a similar episode, so it's possible. The main thing to say though is this: Great job by White Sox people and doctors to save the young man who is just 31.
— James Shields threw a nice game, so perhaps if the ChiSox pitched in they might be able to trade him at the deadline (the Padres are already paying half of his salary) and maybe he should have been on our list last week of players who may get dealt.
— Yoan Moncada (hamstring) was on the DL but is said to be progressing.
— Avi Garcia is almost ready to start a rehab assignment. They miss him.
Cincinnati Reds
— The Devin Mesoraco-for-Matt Harvey trade is a change-of-scenery deal for both guys. The Reds obviously aren't contenders, but 1) they need help in the rotation, and 2) if Harvey has a miracle turnaround, maybe he'd have some trade value.
— Matt Harvey's trade to the Reds could be a blessing in disguise.
— Harvey, who had been working out at the Boras Sports Training Institute in California, may not be excited about last-place/small-ballpark Cincinnati, though he had the option of Las Vegas and Triple-A.
— As someone pointed out on twitter, the Reds aren't exactly known for turning around struggling pitchers.
— Jon Tayler on SI.com thought it was fitting for Harvey, though. "To make it back to the top, he'll have to start from the very bottom," he wrote.
— Mesoraco merely walked to the other dugout at Great America Ballpark, and when he came to bat in the sixth inning against his old team the night of the trade, Reds catcher Tucker Barnhart told him, "You look ugly in blue," as C. Trent Rosecrans of The Athletic told it.
— The Reds have "lots of issues and many layers" notes one scout.
— Considering how well the Reds have drafted over the years, it's hard to believe they have fallen this far. One of the issues is a string of bad trades — i.e. Didi Gregorius, Johnny Cueto, Aroldis Chapman, Justin Turner, Todd Frazier, Yasmani Grandal, Brad Boxberger, etc. The Mike Leake deal was worthwhile since they got back Adam Duvall, but in too many others they didn't receive commensurate return.
— One of the most regrettable decisions the Reds made was sending Amir Garrett back to the minors when the team started 19-15 last year in order to save innings. "The kid hasn't been the same since," one scout said.
— Another scout suggests that Brandon Finnegan wasn't ready to be promoted, based on a rehab start where he threw 98 pitches in five innings. (He threw 39 pitches his first inning back.) That scout says Finnegan needs a "wake-up call" with a real minor-league assignment ("and I'd make it Double-A" he said).
— Some found the move to take the versatile Phil Gosselin off the roster when there was still a spot open (they moved from 39 to 38) a bit curious. Anyway, the Braves took advantage by claiming Gosselin.
— The Reds have had some questionable big contracts in their recent past (i.e. Brandon Phillips, Homer Bailey), but the $66 million deal for Eugenio Suarez looks like a smart commitment so far. He had 15 RBI on the most recent homestand.
— The Reds are holding their first LGBT Pride Night June 8. They are handing out cool rainbow caps.
— Jeter Downs, a high draftee from last year, is living up to his namesake.
— Hunter Greene has shown a brilliant arm, but one scout says he needs to transition from "pitcher to thrower." That's not a surprise since he's 19.
Cleveland 

Indians
— The injury to Andrew Miller was just as devastating to the Indians as one might think, as they went from among baseball's best bullpens a year ago to one of the worst. (Some of that is due to free agent defections, such as Bryan Shaw, too).
— Poor Cody Allen just can't do it by himself.
— The hope is that Miller (hamstring) will be back Friday.
— The other guy the Indians really miss is Shaw, says an Indians insider.
— Danny Salazar had a plasma-rich injection in his shoulder, reported Paul Hoynes of the Cleveland Plain Dealer.
— Matt Belisle was DFA'ed and is a free agent again. He had a nice year for the Twins last year.
— Francisco Lindor is heating up with the weather.
— Jose Ramirez continues to rake.
Colorado 

Rockies
— Ian Desmond is showing signs of a turnaround. His two-homer game (including one off Noah Syndergaard) was a great sign.
— Desmond struggled before that, raising the issue of why they didn't re-sign Mark Reynolds, who was terrific for them last year.
— The rotation is rolling.
— Wade Davis is off to an excellent start.
— As noted in this space, Adam Ottavino, with his brainy ways (and also 97-mph fastball and crazy sliders), has turned himself into a star, as well. The pen looks even stronger than the rotation, which has been very good. Who'd have thought pitching would be the Rockies' big strength?
Detroit 

Tigers
— The J.D. Martinez trade is going to turn out better than the early reviews. Infielder Dawel Lugo looks like a player.
— The Cubs trade was a great one. Jeimer Candelario looks fantastic.
— Leonys Martinez was off to a big start with five homers before going out with a knee injury Tuesday night.
— Miguel Cabrera (hamstring) went on the DL. The good news is, it looks like he's regained his hitting stroke after an off year in 2017 (though the $32 million salary continues to make him untradeable).
— After Albert Pujols became the latest to reach 3,000 hits, Cabrera is next up, writes Jason Beck of MLB.com. Cabrera started in the majors at 18, so no surprise this superstar is going to make it to 3K.
— Ron Gardenhire took the blame for one of the losses, Anthony Fenech of the Detroit Free Press wrote.
— The flu bug hit the Tigers, Beck wrote.
— Rival scouts say Auburn's Casey Mize is the best player in a deep draft that lacks superstar power. The righty has a complete repertoire. Lynn Henning of the Detroit News wrote a piece on why Mize is the safest bet for the No. 1 pick. GM Al Avila is personally viewing all the possible candidates anyway.
Houston 

Astros
— Scouts suggest they shore up their late-inning situation, which could bring Zach Britton back in play. They'd have to figure out a different package than their agreed-upon deal last year, though, as Colin Moran, who was a part of that trade, has since been traded to the Pirates.
— One scout says he's sure the Astros should make Lance McCullers Jr. the closer. That scout says McCullers' "demeanor and motor" better fit the closer role. He also suggested that his stature (he's about 6 feet) makes it tough to be a starter long-term. That scout suggested Brad Peacock should move to the rotation instead.
— The Astros may have had the best winter move two years running, with Gerrit Cole following Charlie Morton. Cole, beyond all his other great numbers, hit 99.3 mph in his last start.
— There has been no evidence of extension talk for manager A.J. Hinch. The Astros hold an option for next year, which they will surely exercise. But they are making a mistake if they don't move to secure him beyond that.
— Jose Altuve turned 28. Astros broadcaster @JuliaMorales noted the event on twitter.
— Collin McHugh became the first pitcher to use the D-backs bullpen cart.
— Bob Nightengale of USA Today writes that the Astros have the nastiest rotation ever, and they are now mad, thanks to Trevor Bauer.
— George Springer became the first Astro to go 6-for-6 in a nine-inning game, as Morales noted.
Kansas City 

Royals
— Jakob Junis continues to look very good. Is he better than everyone realized, asks Rustin Dodd of the Athletic.
— The Jorge Soler trade looks like it's going to work out for the Royals.
— Danny Duffy, in search of himself, is vowing to go back to the stretch, Dodd writes, too.
— Nice story: 26-year-old right-hander Jason Adam, from nearby Overland Park, Kansas, debuted for his hometown team.
— Mike Moustakas continues to rake.
Los Angeles Angels
— The occasion of Albert Pujols' 3,000 hit was another chance for all those many scouting directors who passed on the Maplewood JC shortstop 19 years ago to wonder what might have been. Most of them quietly suffer "the one that got away." But Dan Jennings, the Rays' scouting director at the time, later the Marlins GM and manager and now a special adviser to Nationals GM Mike Rizzo, is secure enough to joke about it, talk about it and analyze the call that went awry. 
— Pujols is the only player ever to have 600 home runs, 3,000 hits and multiple World Series titles, as Tyler Kepner of the failing New York Times pointed out.
— Mike Trout's mammoth homer a week ago at Angel Stadium was so far it went undetected by radar and couldn't be measured. Which is a shame because it was something to behold. The rumor that it went 524 remains unproven. Funny that Mickey Mantle's legendary home run at Griffith Stadium in Washington, D.C. 65 years ago last month could be measured, credit to then-Yankees publicist Red Patterson who found the retriever of the baseball, 14-year-old Donald Dunaway. The ball left the stadium, but Patterson walked outside the stadium to ask Dunaway where it landed. Some think this measurement at 565 feet is fake. But I choose to believe it. Anyway, Trout has always been compared to Mantle for the speed-power combo. And that remains apt.
— Trout and Mookie Betts could be in their second MVP battle in three years. Betts leads in homers, RBI and OPS (13 to 12, 26 to 24 and 1.237 to 1.178) but trails in WAR (3.1 to 2.6).
— The Angels are clearly a contender with two of the most exciting players in the game in Trout and Shohei Ohtani, but as usual they will need to address rotation depth.
— Kole Calhoun, despite all his great catches, has a -0.8 WAR, which tells you how his season at bat is going.
Los Angeles 

Dodgers
— The Dodgers have so many problems – and they seem pretty well committed to staying under the $197 million threshold – but as one rival exec says, "How do you have a (near) $200 million payroll and say 'We're not going to trade our prospects?''' Well, we will find out about that.
— The elbow concern for superstar pitcher Clayton Kershaw has been a "little unsettling," manager Dave Roberts said.
— It also could affect Kershaw's opt-out decision. An opt-out has been assumed to be all but certain.
— Scouts in this space last week noted that Kershaw didn't look like himself (throwing 90-91 mph) and they were right.
— Hyun-Jin Ryu suffered a muscle tear off the bone in the groin area, which sounds very painful and will keep him out a month.
— It was the road trip from hell, as Andy McCullough (@McCulloughTimes on twitter) noted.
— Among other problems is the Dodgers bullpen. The five key guys last year were Kenley Jansen, Brandon Morrow, Kenta Maeda, Tony Watson and Tony Cingrani, and as McCullough points out, Watson and Morrow are with the Giants and Cubs, respectively (and doing well), Jansen has a 4.97 ERA, Cingrani is at 6.57 and on the DL, and Maeda is currently a "below-average starter."
— Corey Seager played with pain for as much as two years before finally having to undergo Tommy John surgery. Position players, even shortstops, can return earlier than pitchers following the procedure, based on history, though. So it's possible he could be ready for the start of next season, although they aren't giving an exact timetable.
— Piece of good news in the Dodgers' unimaginably terrible start: Walker Buehler has looked fantastic. One rival GM praised them for gambling by taking in the first round Buehler, who was known to need Tommy John surgery at the time.
— Buehler was the latest Dodgers pitcher removed with a no-hitter going. Roberts, who's previously removed Ross Stripling and Rich Hill under those circumstances, may set an all-time record for such removals. That's OK; a pitcher's health is more important.
— Pedro Moura of The Athletic has a nice story on Buehler.
— The Dodgers showed how much they like Buehler when they declined to include him in Zach Britton or Yu Darvish trade talks last summer. Even for Manny Machado, it's hard to see the Dodgers parting with him (No shot of that, I'd say.)
— Justin Turner was taking BP, which was another bit of good news.
— One rival says he thinks the Dodgers are doing too much tinkering and should just pick whoever's best at short between Chris Taylor and Kiké Hernandez and play that person there and the other in center. However, as a Dodgers person pointed out, that perception is not correct; since Seager went down, Taylor has started every game at shortstop save for one, which was a scheduled day off which Hernandez started. 
— The Dodgers' depth was hurt by the team's desire to get below the $197 million luxury tax threshold, so it isn't what it was in past years, one rival says.
— The Dodgers signed veteran Danny Espinosa in the wake of Seager going out for the year. It's a logical move, but Espinosa may be more of a depth signing since the team really would like to acquire an offensive threat. Machado is the one who makes sense, as we wrote in this space last week, though it obviously won't be easy.
— Alex Verdugo made an amazing play, one of the best seen so far this year, on a sliding catch near the left-field wall in foul territory.
— Matt Kemp led the NL in batting average, and the Dodgers in slugging percentage and other categories. No one expected him to stick with the team when he was first acquired as an accounting plus for the Dodgers.
— Agent Dan Vertlieb moved from TWC to the Beverly Hills Sports Council, as Robert Murray of FRS Baseball first reported.
Miami 

Marlins
— The Marlins continued to play hard under manager Don Mattingly, defying so-called experts who expected them to be baseball's worst team, including me; I suggested they were the worst of all the bad teams two weeks ago. My bad for that.
— They'd won four series in a row before going to the North Side, where the Cubs beat them.
— Caleb Smith continued to look good, giving the Marlins two surprise effective starters, along with Jarlin the Marlin Garcia (not to be confused with Starlin the Marlin Castro).
— Andre Dawson is running a funeral home in Richmond Heights, Fla. In the interesting story from Bob Nightengale of USA Today, he mentions that Dawson carries caskets, drives hearses, and most importantly, consoles families. He is occasionally recognized.
Milwaukee 

Brewers
— The Brewers' need for a starting pitcher was pretty clear anyway, but Wade Miley went out with an oblique injury in his first inning as a Brewer.
— The Brewers aren't getting much production at catcher. It would be interesting to speculate as to whether they'd consider bringing back Jonathan Lucroy, but it doesn't seem likely.
— The Brewers are a solid team, but they were taking advantage of an easy schedule and were 1-6 vs. the rival Cubs.
— Steven Vogt reinjured his arm attempting to throw and is facing a second shoulder surgery. "I'm just … sad," he told Adam McCalvy of MLB.com.
— Nick Franklin hurt his quad (via McCalvy) in his return to the bigs.
— Chase Anderson was 20-7 with a 2.80 ERA over 44 starts, Mike Vassallo, Brewers P.R. director, noted.
— Keston Hiura, the former No. 9 pick overall, continues to rake.
— Tom Haudricourt did a Q and A with Jesus Aguilar, who's become more prominent with Eric Thames on the shelf.
— Jeremy Jeffress has added a split-finger changeup, and it makes a difference, Haudricourt writes.
— Pitcher Brent Suter homered off Indians ace Corey Kluber. Haudricourt questioned whether we'd see anything more improbable this year. Suter's dinger was no cheapie, either. The 429-foot homer was among the longest hit by a pitcher since Statcast began tracking (so after Babe Ruth). Jon Gray is the record-holder for a pitcher at 467. Shohei Ohtani would seem to be a threat to overtake that.
Minnesota 

Twins
— The Twins are finally starting to play better, and in their division (the AL Central is 35 under .500) they should be able to pile up victories. So any thought the Twins could become a seller – and some had started to speculate just that – is probably on the back burner.
— There's been no talk about extending free-agent-to-be Brian Dozier. But the expectation is that, barring a trade, he will get a qualifying offer, even at $18 million.
— While the Twins tried to extend several young stars this winter – Byron Buxton, Eddie Rosario, Max Kepler, Jose Berrios – and there is no belief any of those talks are ongoing, they are likely to pick up those talks next winter. Jeff Passan of Yahoo first reported on these efforts.
— Fernando Romero had a very promising mound debut.
— Mike Berardino of the St. Paul Pioneer Press had a story of how Romero nearly drowned in a hotel pool accident.
— Eduardo Escobar was the surprise AL leader in doubles and carries a .993 OPS. He is playing due to the 80-game PED ban for starting shortstop Jorge Polanco. Escobar's playing so well you have to wonder whether Escobar is going to take Polanco's job. He even hit one into Big Mac territory in the upper deck at Busch Stadium.
— Eddie Rosario had seven games in a row with both an extra-base hit and a run, tying the organization high over the last 100 years, as Twins PR guru Dustin Morse tweeted. Kirby Puckett and Heinie Manush (long before the move to the Twin Cities in his case) were two of the others to achieve that.
— Jake Odorizzi, from Southern Illinois, beat the Cardinals, the team he grew up following.
New York Mets
— The trade to get Devin Mesoraco for Matt Harvey makes sense for the Mets because they absolutely had to do something about their catching situation. Tomas Nido and Jose Lobaton weren't measuring up to even the low expectations the team had for them, and Mesoraco at least had a great year once. The Mets were never going to get rid of the $4.25 million left on Harvey's deal, so to pay Harvey and have the Reds pay Mesoraco the $13 million he's owed worked for them.
— There are scouts who question whether Mesoraco's defense is good enough. "Good luck with him trying to catch Noah Syndergaard, Steven Matz and Zack Wheeler," one scout told Ken Rosenthal of The Athletic.
— One scout summed up Harvey: "A waste of talent." (In his defense, we'd mention he had two serious surgeries, Tommy John surgery and thoracic outlet surgery).
— The Mets are right to be cautious with Jacob deGrom.
— deGrom and Noah Syndergaard were a combined 5-1 with a 2.46 ERA while the rest of the Mets starters were 3-8 with a 6.72 ERA.
— Michael Conforto was one of a number of Mets struggling.
— The Mets had no leads for 45 straight innings, as Matt Ehalt of the Bergen (N.J.) Record noted. They made it six straight losses – though they briefly had a lead in game six.
— Asdrubal Cabrera continues to be their most consistent offensive player.
— Adrian Gonzalez is playing well enough to keep his job. Meantime, Peter Alonso is impressing folks at Double-A, and may be passing Dominic Smith, whose spring issues have lowered his standing with some within the organization.
— The Todd Frazier DL stay should add opportunities for Wilmer Flores and perhaps Jose Reyes. Flores can hit and deserves more at-bats. Reyes lost a fan when Terry Collins was replaced as manager.
— Even going back to his first go-round with the Mets, Jason Vargas has yet to have an effective start with the Mets. Mike Vaccaro if the New York Post mentioned that Vargas as an 81 ERA in the first inning this year. That won't get it done.
— Anthony Swarzak isn't coming back anytime soon. He was placed on the 60-day DL.
— Neil Best of Newsday has a review of "I'm Keith Hernandez,'' the biography of the first base/broadcasting great (the title comes from "Seinfeld"). Best warns that if you're looking for a celebration of his two World Series-winning teams, you'll be disappointed. It's a tale of overcoming early issues, Best says, and contains tales of sex, drugs and alcohol. That part isn't a surprise.
New York 

Yankees
— One rival scout says the Yankees have done as good a job as anyone choosing which prospects to keep, and which to trade, in recent years. He points out it's hard to name a trade to regret in recent years (the scout suggests maybe the Yangervis Solarte – for Chase Headley — deal was one that didn't work, but it was less than devastating). Anyway, when you have the most money, and you also make good decisions, it puts your team in a great position.
— Gleyber Torres looks like a star. (That's one the other team can't regret, as has been mentioned here, since the Cubs broke a 108-year jinx with Aroldis Chapman.) He is the youngest Yankee to hit a walk-off home run. The previous youngest was Mickey Mantle, who had a pretty good career.
— Chapman is back throwing over 100 mph after a slider-heavy start to the season.
— The Yankees are now 17-1, the first time they did that since June of 1953, as Bryan Hoch of MLB.com noted. Don't mean to bring this up, but the one game they lost was the one where Aaron Judge was out of the lineup. They came back to beat the Red Sox on Wednesday.
— The Yankees outscored their foes by 63 runs in that span.
— Domingo German became the first pitcher to allow no hits and strike out nine in his first big-league start. (The removal during a no-hitter has become commonplace now.)
— German is another example of a great Yankee trade. He came in the Martin Prado deal with the Marlins.
— The re-signing of David Hale (Princeton grad) made them just a little bit smarter.
— Giancarlo Stanton and A.J. Ramos are indeed rooming together, though the exact location is unknown.
— CC Sabathia told George King of the New York Post that he'll probably retire if the Yankees win the World Series. There's a couple caveats there, but it's still interesting. Sabathia has a pretty good Hall of Fame case. What do folks think?.
— There's an appreciation of CC Sabathia on @lockedonYankees by Russell Steinberg.
— The Yankees determined they weren't going to pursue Matt Harvey in a trade, only if he was released.
— Aaron Boone is doing a terrific job, creating the right climate. He has the right personality for the job.
— Brian McNamee, the former trainer of Roger Clemens and Andy Pettitte who admitted supplying steroids to Clemens, is playing baseball for an adult team the Long Island Tides in Cooperstown this week, and McNamee saw the irony in the location of the game.
Oakland 

A's
— Though oddly, nobody was clamoring for Jonathan Lucroy as a free agent, one rival GM says he believes he "has something left in the tank." Should the A's falter, he's an obvious trade candidate.
— Khris Davis continues to be a big threat with the stick, and his walk-off homer vs. the Orioles was a highlight. (He looks like a DH from here, though).
— The A's are better than we figured. They are one of four teams the union targeted for failing to spend its revenue sharing monies (but they, along with the Pirates, were outperforming expectations.) And in their own way, the Marlins and Rays – the other two teams — weren't as bad as folks figured thought, either.
— The A's suffered some more rotation disappointments when Trevor Cahill (elbow) went on the DL and the oft-injured Brett Anderson was rocked.
— Best wishes to Stephen Piscotty, who lost his mother to ALS (Lou Gehrig's Disease) this week. The trade by the Cardinals to send Piscotty home to Oakland was one of the nicest baseball stories of the winter. Good job by both teams.
Philadelphia 

Phillies
— The Phillies invested in the pen this winter, but there have to be concerns about it after their start. Hector Neris has had a couple rough outings.
— Odubel Herrera has reached base in 38 straight games.
— One of the most surprising winter signings was Tommy Hunter for $18 million over two years, not because of his talent (he is talented) but because of his injury history.
— While Hunter is off the DL, Pat Neshek, who got $16.25 million over two years, was on the DL.
— Carlos Santana was off to a slow start but he told critics to check back in September, and showed signs of life after that.
— Aaron Nola is a star.
Pittsburgh 

Pirates
— Corey Dickerson has been great for the Pirates. Not only does he have a .333 batting average and .952 OPS, his defensive metrics were atop the league (in a major surprise).
— Francisco Cervelli continues to fool 'em. Good for him. A minor-league teammate said he admires Cervelli (.952 OPS) because he was one of the least impressive guys on their team and has fashioned a fine MLB career, somehow.
— Andrew McCutchen talked about his upcoming visit to Pittsburgh in an interview with Rob Biertempfel of The Athletic.
— Josh Bell and Jordy Mercer each homered in the same game to break homer droughts, which seemed like a good omen to Rob Biertempfel of The Athletic.
— The lineup's performed well, but the return of Josh Harrison will be a big plus. He should be back in two weeks.
— Jung-ho Kang is working out in Pirate City. And yes, word is, he has a driver. So that's a plus.
— There's an in-depth feature on 3B extraordinaire Ke'Bryan Hayes, the son of Charlie Hayes, in the Pirates minors by Jarrod Prugar on @lockedonPirates.
St. Louis 

Cardinals
— Alex Reyes is expected back fairly soon, which will give them yet another fine young pitcher on a staff with a few of them. He was just added to the Cardinals' High-A roster.
— Adam Wainwright threw five shutout innings in his rehab start and is close to rejoining the rotation.
— Carlos Martinez's 0.54 ERA in April was the lowest in Cardinals history for that month. (He had a rough start Opening Day, but that was in March).
— Jordan Hicks is holding hitters to 2-for-27 with runners in scoring position. It helps that he throws 102 (though he doesn't have a big strikeout rate).
— Yadier Molina had 1,745 games caught for the Cardinals when he went out with a groin hematoma that required surgery. The record for number of games caught for one team is held by Gabby Hartnett, with 1,756 with the Cubs.
— Good thing Carson Kelly was never traded. Kelly will play some, but Francisco Peña (son of Tony) has been doing pretty well filling in.
— Bud Norris is a surprise closer for the second straight year, last year with the Angels.
— Greg Holland will have to work his way back into the role he was signed for. He's said to be "not quite there yet," though he's clearly making progress, as he's starting to put up zeroes.
— Miles Mikolas has been a revelation. Though, folks apparently suspected he'd be good following his success in Japan, as no less than 18 teams showed interest (most were in the $10 million range, but the Cardinals stepped up, at $15.5 million over two years). His 31-to-2 strikeout-to-walk ratio is downright magical.
— Dexter Fowler's first career walk-off home run, coming against the Cubs, felt really good, as he mentioned – though Fowler has to have a warm spot for the Cubs, where he signed to set up his big signing (and won a ring in the process).
— Harrison Bader looks fantastic in center field. He makes things happen in the leadoff spot.
— Tommy Pham, working his way back, leads the NL in on-base percentage.
— The Cardinals should be commended again for trading Stephen Piscotty to the A's this winter, so he could spend more time with his ailing mother Gretchen, who died from ALS this week. Great job, Cards!
San Diego 

Padres
— The return of Tyson Ross has been a major success so far, as mlbtraderumors.com noted.
— Bryan Mitchell's rotation spot is in jeopardy, reports A.J. Cassavell of MLB.com. Mitchell was an unusual starting-pitching expenditure for the Padres, who have specialized in bargains at that spot the last couple years. They took on Chase Headley's $13 million salary in order to receive Mitchell.
— Brad Hand seems to have gotten his signature slider back.
— The Padres are still looking for improvement for Austin Hedges' troublesome elbow.
— Eric Hosmer was heating up, as a few Scott Boras clients were off to hot starts (Mike Moustakas is another), Jerry Crasnick of ESPN noted, wondering whether the Boras Sports Training Institute was a great aid.
San Francisco 

Giants
— The news involving the elbow injury to Johnny Cueto was a major sigh of relief for the Giants, who had to be fearing the worst when he went to see Dr. James Andrews. Cueto is said to have a strain and the hope is that six weeks out will do the trick, as FRS Baseball first reported. One Giants person said he isn't sure they could recover from the loss of Cueto – who's been by some measures the best pitcher in the National League so far. Anyway, six weeks sounds livable when it could have been far worse.
— It may not be easy for the Giants to add pieces. They did a masterful job getting a few pennies under the luxury-tax threshold, and they still consider that a "target." So there may not be much money to spend.
— The Giants' offense looked much improved over last year. Better health for Brandon Belt, and the acquisition of especially Evan Longoria, are a big part of that.
— The Giants have been as affected by concussions as anyone in past years, and the latest, to backup catcher Hector Sanchez, has caused them to sign Ryan Hanigan to a minors deal, as FRS Baseball first reported.
— Hank Schulman of the San Francisco Chronicle noted that it was Hanigan, as Reds catcher, who memorably mouthed "Oh God, no,'' when the Giants star Buster Posey homered off Reds pitcher Mat Latos in the 2012 playoffs, leading to their come-from-behind win in the NLDS and eventual World Series title.
— Mac Williamson is also out with a concussion. Last year Belt and Michael Morse suffered concussions. In the past, even a coach, Roberto Kelly, had a concussion.
Seattle 

Mariners
— James Paxton's no-hitter over the Blue Jays was ultra impressive. He hit 100 mph on the penultimate pitch. Big Maple (so-nicknamed due to his Canadian roots) became only the second Canadian pitcher to throw a no-hitter, and the first to do it on Canadian turf.
— The 99-pitch gem was a great one, with only 99 pitches thrown, and one of the best things about it was that it reminded us his nickname is Big Maple, which is one of the best nicknames in the game.
— GM Jerry Dipoto's former star, Mike Trout, who he re-signed to a six-year Angels deal, helped beat the Mariners. And so did Shohei Ohtani, who was the key man in Dipoto's offseason plan and greatest disappointment when he went to Dipoto's old team.
— Dee Gordon grounded into three double plays in one series, which is practically impossible, as Larry Stone of the Seattle Times noted.
— Andrew Romine was teased by teammates who offered to keep the ball after he broke his 0-for-2018 start with a double, according to Ryan Divish of the Seattle Times.
Tampa Bay 

Rays
— Wilson Ramos is helping his trade value. His hitting streak is up to 15 games.
— It was noted that Carlos Gomez was responsible for their "swagger" at a time the Rays were under .500. It was also noted on Twitter that a team under .500 shouldn't have any swagger.
— They are a tougher team than we figured, so give them that.
Texas 

Rangers
— Texas' connection to Matt Harvey (new bullpen coach Dan Warthen was his pitching coach in New York) had folks suggesting Texas could be a landing spot for Harvey, as T.R. Sullivan of MLB.com noted. But Sullivan further reported that it was not that likely before Harvey was dealt to the Reds.
— The Rangers had looked into Harvey in the winter, with Jurickson Profar speculated as a possible trade piece. (The Mets weren't about to do that at the time.)
— Profar continues to be a mystery. Mookie Betts basically took home when Profar lost concentration in a recent game.
— Tim Lincecum is pitching in rehab.
— Matt Moore's "team-friendly" contract with the Rays turned out not to be that, which shows that, you never know.
— Some rare positive injury news: Evan Grant of the Dallas Morning News reports that top pitching prospect Kyle Cody looks like he may be able to avoid Tommy John surgery.
— Joey Gallo hit a home run at 116.8 mph that traveled 466 feet. Jeff Wilson of the Fort Worth Star-Telegram said it was like a "cannon going off."
Toronto Blue 

Jays
— Former club president Paul Beeston's call not to meet the bonus request of James Paxton, a Canadian, of $1.4 million after they drafted him in the first round of the 2009 draft (pick No. 37) cost the Jays when Paxton no-hit his home-country team Tuesday night, in Toronto. Paxton, who is from British Columbia, wound up with the Mariners instead. After Paxton decided not to sign with the Jays, Seattle picked him in the fourth round the next year.
— Roberto Osuna's arrest for domestic assault, first reported by Hazel Mae of Sportsnet, is a major blow. Manager John Gibbons says they are going with closer by committee. Osuna was put on administrative leave, and is facing a suspension.
— The painful story of Troy Tulowitzki is recounted well here by Scott Miller of Bleacher Report.
— Josh Donaldson returned and looked better. The Jays also had a nice way to make room for him, putting Justin Smoak on paternity list.
— Gift Ngoepe, the first player from Africa, was DFA'ed.
— Aledmys Diaz, who's been a big help, suffered an ankle injury when he stepped funny on first base.
— John Gibbons suffered another ejection, tying him with Pirates manager Clint Hurdle as the leader in recent years.
— J.A. Happ was a surprise on the AL strikeout leader board.
— Kevin Pillar (2.3 WAR) is off to a big start.
— Top outfield prospect Anthony Alford was up.
— The Vlad Guerrero Jr. legend continues to grow. He hit an adjacent hotel on a recent homer.
Washington 

Nationals
— This went under the radar at the time, but the Nats made a significant try late this winter for Jake Arrieta. Sources suggest they floated a high-AAV deal. Agent Scott Boras denied any "official offer" was made, but it's pretty clear they had keen interest. As one rival exec put it, "That would have been some postseason rotation."
— That's when they decided to sign another Boras client, Jeremy Hellickson, instead, and Hellickson has been excellent back in the NL. The Nats were worried about their depth of starters going into the year if anyone faltered, but Hellickson is back on his game. Gio Gonzalez and Tanner Roark have been very good in front of him, too, as the Nats are now showing their potential (they were the NL pick here to make the World Series).
— It's funny Arrieta turned down the Nats and Cubs to go to Philly. But Arrieta liked the potential of the Phillies deal, as was written here. Arrieta may not mind being the ace/leader of the staff, too, which he is in Philly.
— Max Scherzer continues to be amazing.
— The Nats could be a rare team with the Cy Young winner and MVP – though Harper's recent 0-for-18 drought dropped him below .250 (the OPS is still close to 1.000 though, due to the homer and walk numbers).
— Stephen Strasburg is a little too "east, west" in his delivery, one scout said.
— Mark Reynolds is playing in Triple-A now, but he has a May 12 opt out. Matt Adams has been good, which may make things tough for Reynolds. entering Wednesday he was 9-for-31 (.290) at Triple-A with a home run and four RBI. 
— Daniel Murphy is running now, but he's still working on turning. No timetable yet.
— Juan Soto had 11 home runs, including five in six games. He looks like a future star. Not to put too much pressure on him, but one scout compared him to a young Miguel Cabrera.
— Adam Eaton's absence is a "big loss," according to one rival.
— While Ryan Zimmerman's stats aren't great, his hard-hit rate is again among the NL leaders, lending credence to the belief it was OK for Zimmerman to basically skip spring training. While they haven't talked about his unusual approach, one person said he had "discomfort in his leg."
— Bryce Harper's defensive metrics are oddly low. He is considered a good defender, so that's weird.
— Before Seth Romero was sent home following repeated curfew violations, GM Mike Rizzo gave Romero – who had been booted from the University of Houston baseball team for bad behavior – a stern warning, according to people familiar with the situation. While Rizzo was said to give him a clean slate, he also warned him to follow the rules. Agent Scott Boras is said to be supportive of Rizzo's stance, as they all want Romero to get serious about harnessing his vast potential. Some believe he has such great talent that he could contribute now (had he followed rules this spring).
— Matt Wieters hasn't hit a ton yet, but he is said to look a lot better a year removed from his unfortunate household accident – he had many stitches after dropping a water jug — a year ago.
— Generally, the Nationals looked back on their game.