Heyman | 5 hurdles standing between Dodgers and Machado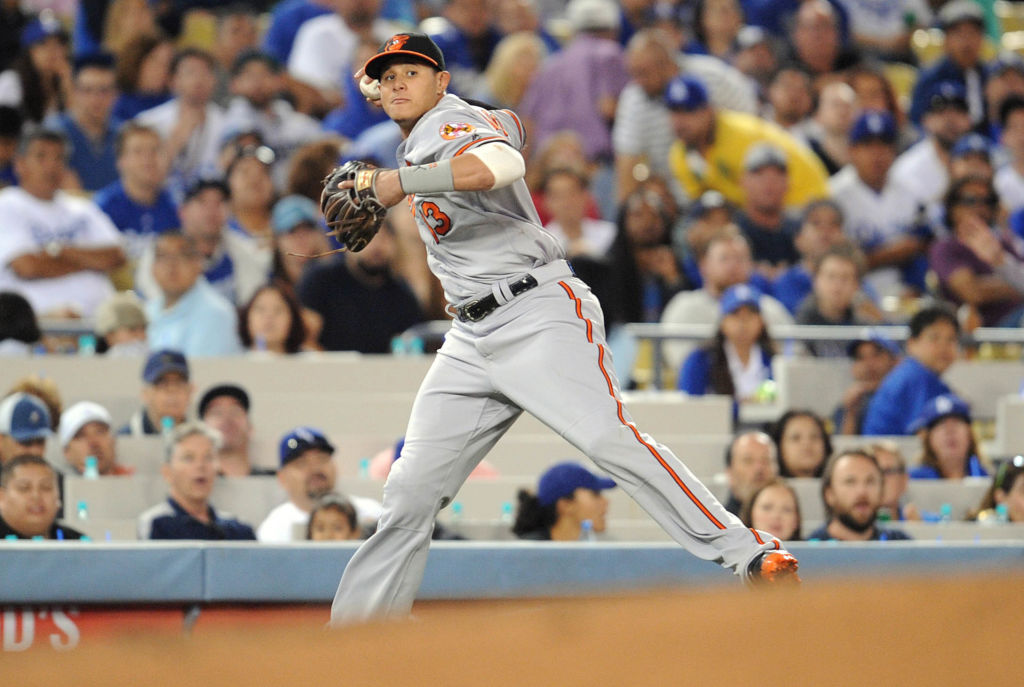 The Los Angeles Dodgers tried for Manny Machado over the winter, and they are talking again behind the scenes about him now that they have an opening at his shortstop position. However, to this point there isn't overwhelming optimism that there will be a deal to be made. As of Wednesday afternoon, the Dodgers had yet to make the big call to the Orioles (though it's clearly on their mind).
That doesn't mean there's no chance at all for a deal, just that there are significant hurdles that must be scaled. Machado would actually be the perfect guy to replace injured star shortstop Corey Seager as the one outside option who could approximate Seager's value – or possibly even surpass it. But, of course, it won't be easy.
Here are some of the hurdles:
1. The Dodgers, who spoke to the Orioles about Machado this winter, and were in fact one of nine serious pursuers – even before third baseman Justin Turner went down – but their offseason highlight turned out to be the accounting magic that helped them get below the $197 million luxury tax threshold.
Of course, they don't want to do anything that will push them over that mark, or even jeopardize their ability to add pitching or other pieces later. Machado's $16 million salary would seem on the surface to be a potential problem, but they could lessen its effect by either negotiating to get the Orioles to pay Machado's salary down or take a high-paid player back (i.e Logan Forsythe, who was thought to be one of the pieces likely to go if the Dodgers were able to re-sign Yu Darvish). Of course, for the Dodgers to get the Orioles to pay down part or all of Machado's salary, whether it be with direct cash payments or taking that well-paid veteran back, the Dodgers would have to give the Orioles a better prospect package.
2. The Dodgers, who joined the Diamondbacks, Indians, Cardinals, Phillies, Yankees, Red Sox, Cubs and White Sox as the main pursuers of Manny this winter, are known for not liking to trade their prospects, especially for rentals – even star rentals. They drove a relatively hard bargain last year with Texas, surrendering Willie Calhoun and two others for Darvish, but they never seriously considered giving up either of their top two prospects – either pitcher Walker Buehler or outfielder Alex Verdugo.
"The Orioles will want Buehler," one rival executive surmises.
And that is probably a fair guess, considering the Orioles' interest in landing young pitching for Machado over the winter before finally pulling him off the market. Machado should have a significantly greater value than even Darvish, especially if there's a trade as early as late-May, but it still seems doubtful that the Dodgers would consent to part with Buehler.
3. The Orioles are not the easiest team to trade with. That very point was made by a Dodgers person in regards to any possible Machado trade. Orioles owner Peter Angelos likes nothing less than to trade his stars, and he rarely does. The Orioles did come close to trading Zach Britton last summer, but Orioles doctors or cold feet intervened, depending on whom you believe.
4. The timing may not work. The Dodgers need a shortstop sooner rather than later. Meanwhile, Orioles GM Dan Duquette said by phone that they won't think about moving into sell mode until Memorial Day. While the Orioles' playoff chances look slim, that's a reasonable position, as teams have come back from similarly horrendous starts (the 2001 A's started 8-18 and finished with 100 wins).
5. The Dodgers could look at just about any position to seek improvement due to the versatility of their current players. Chris Taylor and Kiké Hernandez can both play the infield and outfield with equal aplomb, and even first baseman Cody Bellinger could move to the outfield, which could open up first base as a spot for acquisition. One thing they don't seem interested in is a defense-first shortstop, as they like the way Taylor and Hernandez play short.
Of course, Machado is one of baseball's best two-way players, so he clearly fits.