Inside Baseball | Top 40 MLB trade candidates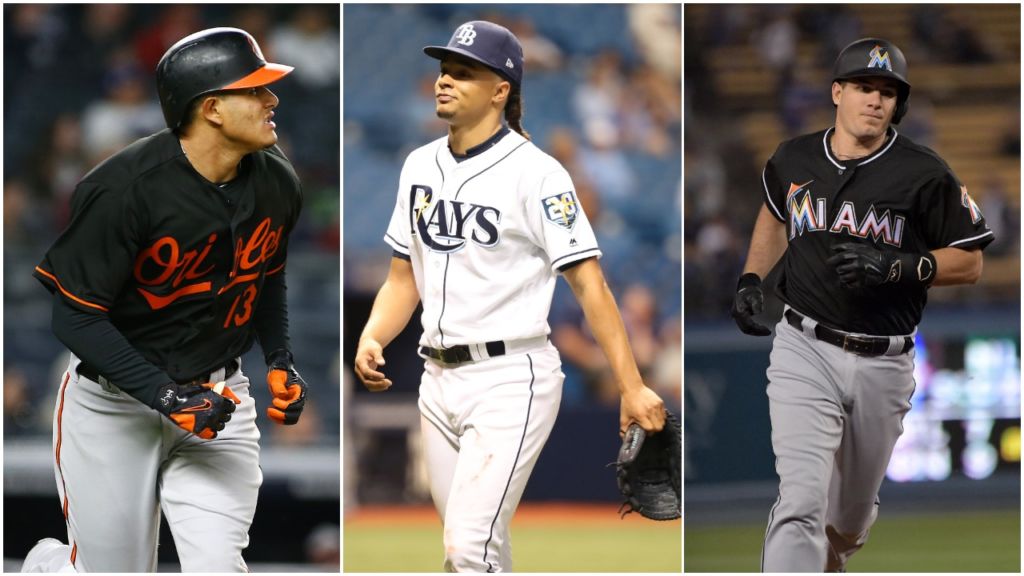 One advantage to having so many terrible (or at least obviously non-contending) teams is that the potential for an exciting trade deadline and more good available players increases. For that reason, this July's trading season could be a doozy.
With 10 teams on pace to lose 100 games (or come close), there could be a ton of players on the market. Here is a top-40 of potentially available players, with comments on the likelihood for a trade and possible landing spots.
1. Manny Machado, Orioles SS
With no chance to sign him long-term (they tried a few years back, allegedly coming within $10 million or so of getting a deal done for something south of $100 million), it's hard to see why they'd keep him past the deadline. Sure, they can wait a few more weeks to confirm that they aren't going anywhere – it sure looks that way early – but eventually, he's very likely to go.
Nine teams made some sort of effort to land him this winter/spring (Yankees, Red Sox, Cubs, White Sox, Diamondbacks, Dodgers, Indians, Cardinals, Phillies). Obviously the Dodgers have an immediate need – two actually (more on that) – and the timing could be one of many hurdles. Though they are the most obvious fit at present.

2. J.T. Realmuto, Marlins C
He's back, and he's producing. He's also one of the best all-around catchers in the game. The Marlins acted quickly and decisively to trade four stars already, but with the last established name player remaining, the belief now is that they will want a "king's ransom" for the multi-talented backstop.
The division rival Mets are the team with the most obvious need, but the Nats and Astros (depending on how Brian McCann holds up) could also make sense among contenders.      
3. Chris Archer, Rays SP
Executives are suggesting his value is down, though these are rival execs, some of whom may want to land him. Archer hasn't lived up to the hype at times during his career. But he looked good in his most recent start and he certainly has pitched beyond his contract, which still looks very team friendly, even with him toting a 6.61 ERA. The Brewers have been of speculated, and they certainly have the need as well as the prospects to get the job done.
4. Jose Abreu, White Sox 1B
He's a terrific player, and what's more he's a terrific leader. However, it isn't easy to place for a first baseman, as many a first basemen has found out the hard way the past couple of winters. He has one more year of arbitration eligibility, and barring an injury, the guess here is that the ChiSox will continue to believe he's worth more to them than he is in trade.
Beyond the power, he sets a nice example for their many talented prospects. The Red Sox were a team of interest this winter, but right now they don't look like they could use much (and 1B Hanley Ramirez and Mitch Moreland are both performing well).
5. Kelvin Herrera, Royals RP
The Royals have had three great closers in recent years, and he is the last of the trio – though based on how he's performing this year, not necessarily the least. He's no longer the hardest thrower in the game as he was for a bit, but he's more effective than ever. He should bring quite a bit back. Perhaps Houston will be in the market for a closer.
6. Michael Fulmer, Tigers SP
He is proving he's healthy after arm questions scuttled the trade talk this winter, which should make him quite enticing as a trade chip indeed. The pitcher who came in the big deal for Yoenis Cespedes has been what the Tigers hoped for, but with the team in rebuild, they could bring back multiple prospects for him if they dealt him now while the value is high.
7. Cole Hamels, Rangers SP
He isn't having his usual year, but there's reason to believe he has plenty left. The Rangers appear to be in too deep in the tough AL West this year, and a trade would be logical. The Phillies could use a lefty, and he seems to like it there, though that's not been heard as a potential match from anyone credible.
8. Zach Britton, Orioles RP
He'll be back in a month, just in time for the Orioles to start a possible sale (more on that in Inside Baseball notes), and if he looks like any semblance of his 2016 season, he'd draw a crowd. The Orioles came close to trading him to Houston last summer before either 1) not liking what they saw on the medicals on the two players coming back, or 2) getting cold feet. At his best, there is no one better. Like with Herrera, perhaps Houston makes sense.
9. Raisel Iglesias, Reds RP
The Reds have sent out mixed message over the years about whether they'd even entertain the idea of trading Iglesias. But let's face it; since they aren't a contender, he'd be more valuable elsewhere. Under-rated star.
10. Brad Hand, Padres RP
There was discussion of a trade for him last July, but instead they signed him up to an extension. It wouldn't seem like the extra years would be discouraging anyone from being interested, not the way he's pitching.
11. Adam Jones, Orioles OF
He's a great talent with the penchant for the big play at the right time, like that over-the-wall catch he made to save Team USA in the WBC last year. He's yet another of the Orioles' free agents to be, so if they can find the right team – and the right deal – he could go.
12. Danny Duffy, Royals SP
The Royals' ace is struggling this year, so suddenly his long deal doesn't look like such a bargain. He was talked about in trade during the winter, when the Royals were figuring out how they could line up the dollars to pay franchise player Eric Hosmer, who ultimately opted to go to San Diego for more dollars. Duffy is very talented, but the start clearly is not helping his value.
13. Brad Brach, Orioles RP
Yet another of the Orioles free agents, he can close or set up. He's exactly the type of middle reliever who was beloved on the free agent market this winter. And he wouldn't cost as much in prospects as, say, Britton.
14. Mike Moustakas, Royals 3B
He didn't sulk when his free agency didn't go as hoped. Instead, he took it to heart – losing a little weight, regaining a little lateral movement and adjusting his attitude. And the result is that he's practically the only one of the late signers who's thriving. The trick once again is finding the team that needs a third baseman (though word is he can play first base as well). The price certainly is right.
15. Jed Lowrie, A's INF
The A's are playing well enough to try to stay in it. But if they fall back in the difficult AL West, Lowrie should have strong value. He brings the versatility teams look for now, and there's no question he's hot (he leads the AL with 27 RBI). When healthy, the fellow can hit (hard to believe, he's batted third more often than any other spot in the order).
16. Dan Straily, Marlins SP
After he opined that maybe they were better off without the players who didn't want to be with the Marlins anymore (i.e. Giancarlo Stanton, Christian Yelich), Stanton's agent Joel Wolfe joked that the Marlins were now "Dan Straily's team." But perhaps not for long. He just returned, and if he shows anything close to last year's nice performance, there's no reason to think he, too, couldn't hit the trade block.
17. Adam Duvall, Reds OF
The two-time All-Star's name came up in trade talks with the Giants this winter. He's a good defender with power, so folks should like him. The only reason he's this low is his slow start.
18. Francisco Liriano, Tigers SP
He was recently overpaid, but he looks like a bargain the way he's pitching so far this year, bringing some trade value. He's been very good in the rotation, but he can relieve, too, if needed.
19. Ryan Buchter, A's RP
Other teams remarked how much they liked Buchter when the A's got him, thanks to their willingness to take the contract of the since-released Brandon Moss. Lefties are always in demand, especially when there may be few other good ones out there. (There's no guarantee the Padres trade Hand.)
20. Scooter Gennett, Reds INF
He had a huge year for his hometown team after their nice trade last year to get him from the division-rival Brewers. But with top prospect Nick Senzel on the horizon, he could be expendable.
21. Alex Colome, Rays RP
He's had a disastrous start, surely reducing his trade value significantly. But if he reverts to his career norm, there would be serious interest. For now, it'd have to be wait and see. But he could easily move way back up this list.
22. Jonathan Lucroy, A's C
The two-way catcher had that rough half-year in Texas, and it seemed to cost him this winter. And while he's gotten off to a so-so start, he'd help a few contenders, including the Astros and, most obviously, the Mets.
23. Darren O'Day, Orioles RP
He's a year away from free agency. But with a big salary, it isn't hard to see the Orioles dangling him, as well.
24. Wilson Ramos, Rays C
That knee injury cost him a chance at a monster deal. But he still got a nice enough deal that the cost-conscious Rays surely would like to be out from under it. The Mets make sense.
25. Whit Merrifield, Royals 2B
I'm not quite sure why he's on the list. But it's well known his name was out there this winter. So perhaps the Royals would consider moving him.
26. Avisail Garcia, White Sox OF
He's been mentioned before in trade, and with so many top outfield prospects on the horizon, it makes sense. The thing is that he didn't seem to draw a ton of interest before, and his rough start this year won't help in that regard.
27. Freddy Galvis, Padres SS
He's really a brilliant defender, so if a contender has a need for a shortstop, it may make sense. His availability may depend on the timetable of one of baseball's best prospects, Fernando Tatis Jr. The rival Dodgers would be looking for a bigger offensive threat, so they probably aren't a fit.
28. Nate Jones, White Sox RP
He's quietly putting together a nice start in the ChiSox bullpen, enhancing his value.
29. Trevor Cahill, A's SP
He's had quite an interesting career, bouncing between the rotation and the pen, and the ranks of the wanted and unwanted. The guess here is, he may be wanted again.
30. Ian Kennedy, Royals SP
He didn't give his opt-out a second's worth of thought, as he admitted, so it's fair to say he's worth quite a bit less than his contract. Still, he could make a viable starter for some contender – depending on how much the Royals are willing to offset his contract.
31. Andrew Cashner, Orioles SP
The Orioles may be a busy trader this winter. His nice year for the Rangers last year could mean someone would take a chance.
32. Denard Span, Rays OF
He only came home to the Rays as a salary offset. But he's out-performed expectations, piling up the RBI and looking like a new man in Tampa Bay.
33. Starlin Castro, Marlins 2B
He's one of the few big moneymakers left in Miami, and word has been that he'd welcome a trade.
34. Billy Hamilton, Reds OF
The man can play center. But another offensive disappointment could inhibit his market.
35. Brad Ziegler, Marlins RP
The man is still tricking 'em, and he still can close.
36. Adeiny Hechavarria, Rays SS
One of the best shortstops going, but they'd have to find the right team.
37. Lucas Duda, Royals 1B
He's up to .213 and remains a power threat. Limited market.
38. Jon Jay, Royals OF
Yet another of the late-signing Royals seems to be well priced to move.
39. Jose Iglesias, Tigers SS
Very much like Hechavarria. Great D, limited O.
40. Wei-Yin Chen, Marlins SP
He looks like he could be back on track. But speaking of contract offsets, this one would be an all-timer. The Marlins would presumably have to pay more than 80 percent of what he has left –and that assumes he puts together some good starts.