Inside Baseball | Where will the top trade candidates end up?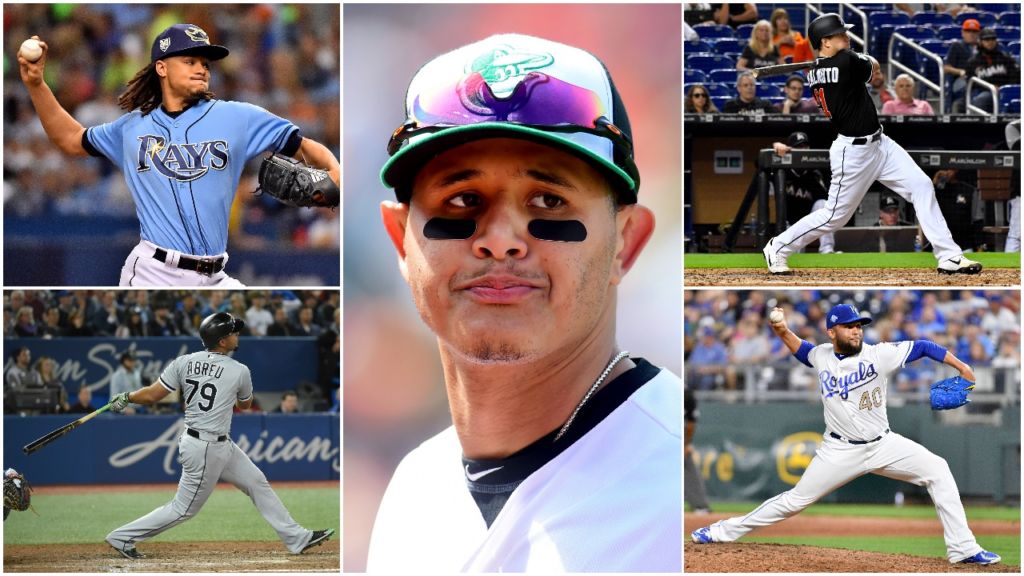 After taking a look last week at the top 40 players who could become trade bait this summer, this week we're going to attempt to match 20 of the best with a possible new team.
It's early, of course, so a lot can happen before the trade season really heats up next month. But as one executive said, "With so many bad teams, I feel like there are going to be significant deals earlier than usual."
1. Manny Machado, Orioles SS. While we wrote about the hurdles to a Dodgers trade last week, and yet another new hurdle now — following all the Dodgers' continuing misfortunes, could the Dodgers decide it's imprudent to trade for a rent-a-player (more on that on in Inside Baseball notes)? – there's yet another complication. However, with a shortstop opening after the loss of star Corey Seager for the season, a known keen interest in Machado and a particular interest in offense at the position, they still make the most sense at the moment. Best bet: Dodgers. Other possibilities: Cubs, Diamondbacks.
2. J.T. Realmuto, Marlins C. The Mets absolutely need a catcher (even after acquiring Devin Mesoraco), and this is easily the best one. Many insiders – including some with the Mets – doubt they have enough to make a deal. And now, with Miami playing better than expected so far and the Marlins a continuing target for criticism following their extreme fire sale, who knows if he gets traded at all? The one thing the Mets have going for them is the paucity of contending teams needing a starting catcher. Best bet: Mets. Others: Brewers, Phillies.
3. Chris Archer, Rays SP. The Brewers are the best team that's short of pitching. Dan O'Dowd of MLB Network tabbed the Brewers as the most logical team for Archer months ago, and I think he was on to something. It doesn't hurt that Brewers owner Mark Attanasio and Rays owner Stu Sternberg are close. Best bet: Brewers. Others: Diamondbacks, Phillies, Mariners, Angels, Giants, Rockies, Mets.

4. Jose Abreu, White Sox 1B. Can you imagine the damage he'd do at Coors Field? Ian Desmond is starting to show signs of regaining form after a rough first year in Colorado. But the Rockies overall offense isn't what it was, and Desmond could easily transition to a corner spot where they also need help. The other caveat is that Abreu is beloved on the South Side and a fine mentor for the young team. One person close to the situation says "the White Sox would have to be blown away" to deal him. Best bet: Rockies. Others: Mets, Yankees.
5. Kelvin Herrera, Royals RP. One of the game's best closers may not be as well-known as some other relief stars, but he's proven in big spots, including the postseason. The Astros look like they could use a boost in the bullpen. Best bet: Astros. Others: Angels, Blue Jays, Nationals.
6. Cole Hamels, Rangers SP. The big salary might limit the field, and we know the Phillies like him, and vice versa. Plus, they could use a lefty. The other big-money teams are either over the luxury-tax threshold or close enough that his $24 million salary would be a problem. Best Bet: Phillies. Others: Red Sox.
7. Zach Britton, Orioles RP. The Astros had a deal for him last summer before it was scuttled by the Orioles, either due to medical failure(s) or Peter Angelos' notorious cold feet. Of course, they wound up trading for Justin Verlander, and the rest is history. Houston still hasn't solved its closing issue (see Herrera above), so it would make sense. The Dodgers were another that showed interest, but with all their injuries, they could go in any direction this time (plus they will be cognizant not to go over the luxury-tax threshold). Best bet: Twins. Others: Angels, Astros, Blue Jays, Dodgers, Nationals.
8. Brad Hand, Padres RP. Hand could help virtually any team, so this is a tough one to predict. They could also easily keep Hand, who has several years to go on his deal. Best bet: Angels. Others: Astros, Dodgers, Nationals, Twins.
9. Adam Jones, Orioles CF. The Orioles may ride it out with their beloved long-time star since Machado and Britton are all but sure to go and the market for outfielders may not yield what they hope. But a few teams sure could use him. Best bet: Indians. Others: Angels, Blue Jays, Mets, Dodgers.
10. Raisel Iglesias, Reds RP. The Reds are a tough one to predict, but it makes sense that a top closer shouldn't really be on a team that's on pace to win 50-some games (h/t Matt Ehalt of the Bergen Record for that observation). They should be able to get a haul for him, too. The low salary would fit the Dodgers, who are looking to stay under the $197 million threshold. The Jays may also be in the market for a closer now, following the unfortunate incident involving Roberto Osuna. Best bet: Blue Jays. Others: Astros, Dodgers, Angels, Twins, Nationals.
11. Danny Duffy, Royals RP. Duffy is going back to pitching from the stretch, and once he gets it back together he should have decent trade value. If he's right, he could help half the teams in the league. Best bet: Mariners. Others: Angels, Mets, Phillies, Brewers, Red Sox.
12. Mike Moustakas, Royals 3B. Third base is a tough one, as Moustakas learned this winter; just about every contender has a productive one. The Cardinals make some sense, but they may be more concerned about pitching. The D-backs could use him if Jake Lamb isn't back, as expected. He can also play first base, which could open up one of the two New York teams – he nearly signed with the Yankees this winter. Best bet: Yankees. Others: Diamondbacks. Rockies, Mets, Cardinals.
13. Jed Lowrie, A's INF. He can play anywhere on the infield. So he could help a number of teams. The A's are hanging in the race, so they could also wind up keeping their veterans – or even adding guys. Best bet: Brewers. Others: Diamondbacks, Indians, Dodgers, Blue Jays, Cardinals, Astros, Yankees.
14. Brad Brach, Orioles RP. His stuff is "a little down," says one exec who quickly admitted that he'd be happy to have him. He's probably more suited to set up on a contender, though. Best bet: Indians. Others: Twins, Angels, Dodgers, Mariners.
15. Jonathan Lucroy, A's C. He was very good in Colorado last year, and word is they showed some early interest in re-signing him in the winter. Chris Iannetta seems pretty well entrenched, so the likelihood probably isn't high. But there are other options (though we'd like to see a Brewers reunion, that may be a long shot, too.) Best bet: Rockies. Others: Mets, Phillies, Brewers, Red Sox.
16. Wilson Ramos, Rays C. The Mets are the most obvious landing spot for any catcher, as they are struggling both offensively and defensively. Ramos is on a tear with the bat lately. Best bet: Phillies. Others: Rockies, Brewers, Mets, Red Sox.
17. Alex Colome, Rays RP. He needs to regain his old form for any chance to be traded. But assuming he does, he'd help many. Best bet: Angels. Others: Dodgers, Nationals, Indians, Twins.
18. Jon Jay, Royals OF. He seemed to sign with the Royals with a possible trade in mind. He's solid defensively in center, though maybe not quite what he was and perhaps best suited for a corner spot. And he gets on base. Best bet: Indians. Others: Mets, Angels.
19. Billy Hamilton, Reds CF. The Reds should have traded him in the winter. It might be harder now. Best bet: Giants. Others. Indians.
20. Freddy Galvis, Padres SS. With J.P. Crawford hurt (and perhaps not quite ready), a return to Philly isn't out of the question. Adeiny Hechavarria is another defense-first shortstop option. Best bet: Phillies. Others: Dodgers Blue Jays.