Heyman | Early look at the Craig Kimbrel market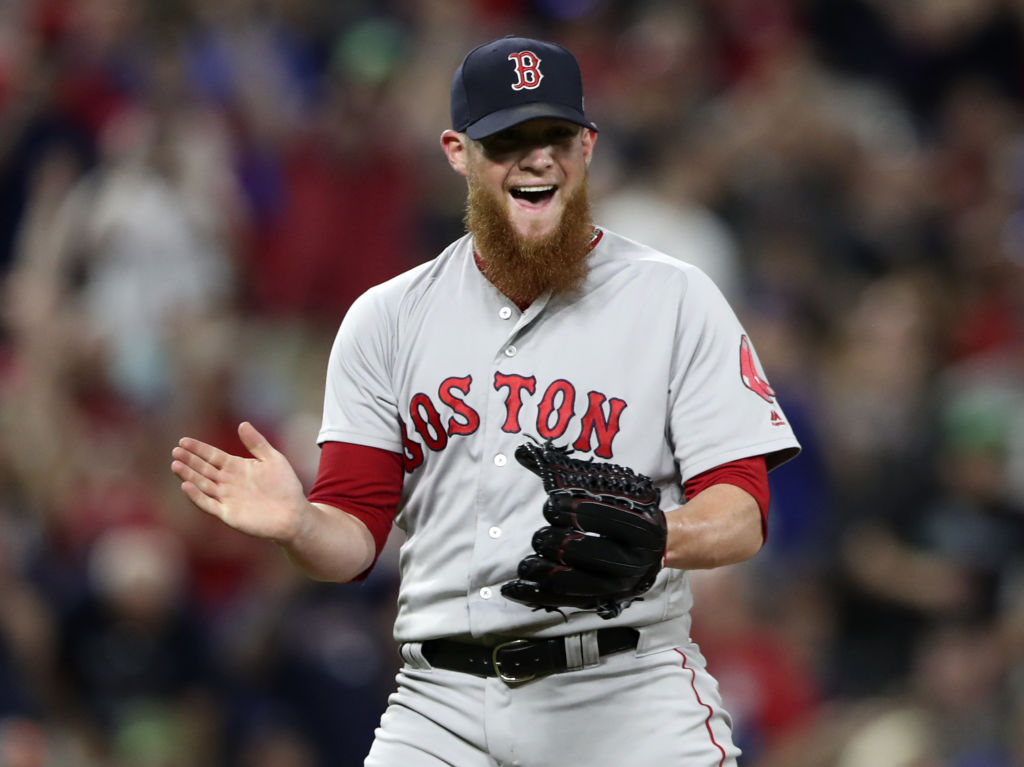 Red Sox closer Craig Kimbrel, only 29, became the quickest to 300 saves this week.
Kimbrel has a big-time free agency case, and it'll be interesting to see if he breaks the record for biggest contract ever for a reliever. Aroldis Chapman, the hardest thrower in baseball history who went to the even-bigger-market Yankees, got a record $86 million, five-year deal – the most ever for a reliever.
(Yankees people later lamented having that happen due to the belief at the time the Marlins were at that level, but as it turned out, the Marlins deal was backloaded beyond belief. And Chapman probably didn't want to go to the Marlins, anyway.)
"He should break Chapman's record," our salary expert says. And we concur.
We've already done derbies for Bryce Harper, Manny Machado, Clayton Kershaw, Josh Donaldson and A.J. Pollock. But Kimbrel – and there's not talk at the moment with the Red Sox, sources say — should be an interesting competition indeed.

1. Red Sox
They obviously liked him when they sent four prospects to the Padres to get Kimbrel, and they obviously have the wherewithal (Red Sox revenues are sky-high, which explains why they didn't mind venturing into tax territory).
Odds: 2:1
2. Phillies
They have money to burn, which is well documented. It's just a matter how they spend it. There's a possibility the Phillies (with so many ex-Orioles execs in the front office) go for both Orioles stars – Manny Machado and Zach Britton – as they already spent on an ex-Oriole Jake Arrieta.
But Kimbrel would fit the bill, too. They showed they were willing to put serious money into the bullpen.
Odds: 6:1
3. Braves
The Braves are supposed to have money to spend like they haven't spent since Melvin (B.J. back then) Upton, though they may be more likely to target third base or the outfield. It would be nice to bring Kimbrel back home to where he started. And the Alabama product would not mind that, either.
Odds: 8:1
4. Astros
If they have a weakness, this might be it. They could stamp themselves as favorites for 2019. The Astros, as a powerhouse not too far from Kimbrel's Huntsville, Ala, hometown (same region anyway), could hold extra allure for him, too. The one issue is the priority is more likely Carlos Correa, George Springer and Alex Bregman, and perhaps all those great starters.
Odds: 10:1
5. Rangers
They sat out this winter but have money and certainly have the need.
Odds: 13:1
6. Giants
The money spent on injured Mark Melancon appears not to be well spent, and while other parts of the bullpen seem strong (Hunter Strickland, Tony Watson), it's possible Strickland will prove not to be the answer.
Odds: 17:1
7. Cardinals
He seems like a Cardinals-type player, and their two current closing options (Bud Norris and Greg Holland) are on one-year deals.
Odds: 20:1
8. Mets
After seeing him for years with the Braves, they have to be impressed. Jeurys Familia is a free agent.
Odds: 25:1
9. Padres
They made a big play for Kimbrel once, and they've surprised a few times before.
Odds: 27:1
10. Cubs
Brandon Morrow looks like the answer, and the Cubs don't love the idea of a long deal for a reliever, anyway.
Odds: 30:1
11. Field
The Yankees and Dodgers already have star closers. Royals people know him from the Braves, but they don't have that sort of loot.
Odds: 20:1