Inside Baseball MLB Notes | Didi looking like MVP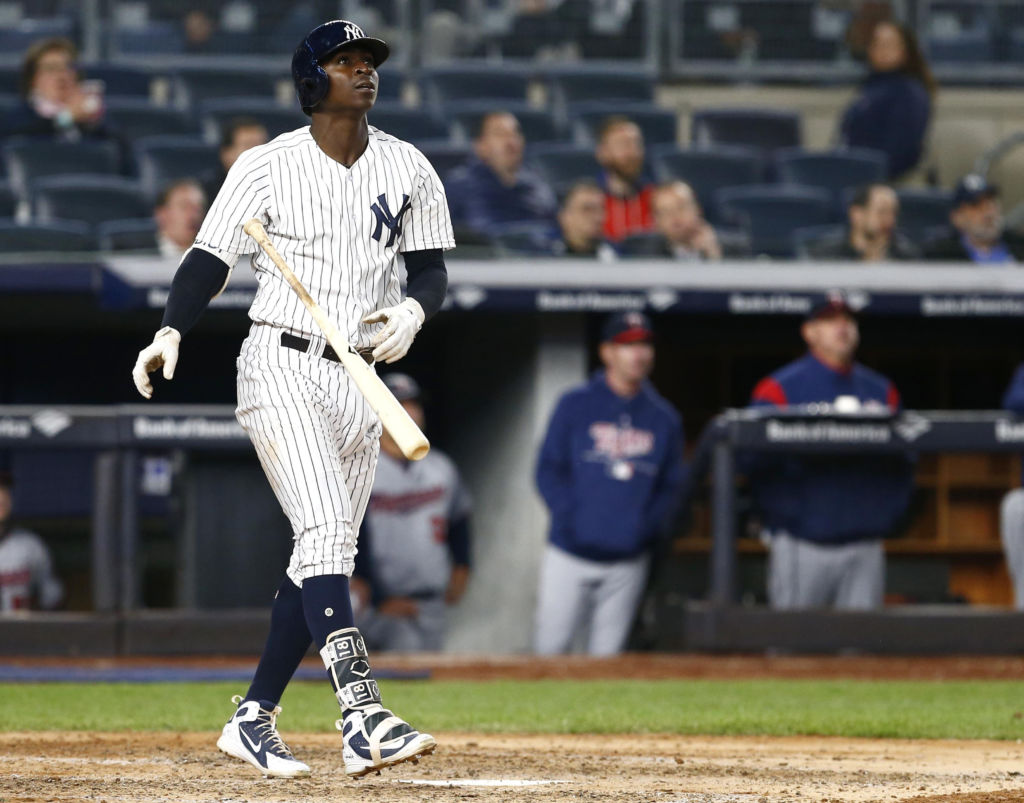 Inside Baseball from Jon Heyman brings you news, notes, rumors and more from all 30 MLB teams. For Jon's first-ever Weakness Rankings (it's like a Power Rankings, but…worse), click here.
And now, around the majors…
Arizona 

Diamondbacks
The Diamondbacks have been really terrific, as they have yet to lose a series. They recently won their eighth straight at Citizens Bank Park. Earlier, they had an 11-game winning streak against the rival Dodgers, And they are doing it without Steve Souza, their biggest winter pickup, as one rival pointed out.

Folks mention how many great players they traded over the years – Max Scherzer, Didi Gregorius, etc. – but they are still pretty darned good.

Could Patrick Corbin wind up with the Yankees? Sure. After resetting their tax rate downward, they are expected to be big spenders next winter. And they'd love a lefty starter, of course. Bob Nightengale of USA Today suggested the Yankees as a possible landing spot. Corbin happens to be from upstate New York, too. They likelihood of Clayton Kershaw leaving the Dodgers probably isn't great, as we suggested here last week. Corbin would make a nice second choice. He has improved significantly since emphasizing his patented slider, as was mentioned here last week.

From here, Torey Lovullo seemed over-the-top in his reaction to Yadier Molina's excellent framing, but it seems to have inspired the team.
Atlanta 

Braves
Ronald Acuña got a little warmer (8-for-his-last-24) and the Braves, true to their word, promoted perhaps the game's best prospect, We've been critical of the Braves for their perennial pocket-lining over the years, but they get credit for calling up Acuña now, weeks before they could delay his arbitration by a year (they did delay his free agency).

The real surprise is not the Acuña call-up, but that the Braves led the NL in runs at the time of the call-up (122).

The signing of Kurt Suzuki was a great deal. And the re-signing of Suzuki was an even greater deal. He has been a surprising power source since becoming a Brave.

David O'Brien of the Atlanta Journal-Constitution did a nice story about the perseverance of Jessie Biddle, who was once a top Phillies prospect.

Dansby Swanson led the NL in WAR heading into Tuesday. An assist needs to go to coach Walt Weiss, who's been working with him.

Joey Bats is coming soon. Bautista is going to get a chance to play, so he played things right. We reported that Bautista received a larger offer elsewhere than the $1 million the Braves will pay, and Chris Cotillo of SB Nation reported that it was the Indians who made such an offer. That makes sense because they have been desperate for outfielders. But it can't be right, can it? Bautista's agent had insisted to us that his client's main interest is in winning. Hmmm, maybe he thinks the Braves are better than the Indians.
Baltimore Orioles
Manny Machado is on a tear, not that his free agent case needed any help.

As Christopher Kamka pointed out, Machado had multi-homer games against two past Cy Young winners – CC Sabathia and Corey Kluber.

Machado has been good at shortstop, but the move hasn't exactly worked for Tim Beckham, who was having trouble adjusting to third base and was just placed on the DL.

The whole Orioles defense has been an issue.

It's hard to know how things will shake out with so many key figures with the Orioles with contracts expiring or free agents (beyond Machado and Zach Britton likely leaving as free agents, if not before), and some of the intrigue is going to be about GM Dan Duquette and manager Buck Showalter. And while both have generally gotten good reviews for outperforming in a touch division, many find it increasingly hard to see them working together in exactly the same roles.

Showalter mysteriously continues to play the defensively-strong Caleb Joseph, who was famous for going a whole year without gathering even one RBI and is 4-for-40 with 17 strikeouts (but he does have two RBI!). Chance Sisco is a favorite of the front office, so this is another potential opportunity for disagreement. The O's are at or near the bottom in offense at 1B, 3B and catcher.
Boston 

Red Sox
Alex Cora has his first real test as Red Sox manager after the storybook beginning. Everyone around the team says he has set a terrific tone.

Mookie Betts won his bet in arbitration. And he won his bet turning down a long-term offer, as he is back to his MVP form of 2016, with a 1.138 OPS early.

David Price's nice bounce-back has been another key to their great start.

Rick Porcello looks back to his 2016 form, perhaps even better. Matthew Kory of The Athletic points to increased use of two-seamers as opposed to four-seamers. As we recall, Porcello won the Cy Young in 2016 (sorry to bring that up, Kate).

You don't think Boston is a tough town? New third base coach Carlos Febles awoke to this headline (of course no one awakes to headlines anymore, but if he did …) "Bad Call by Carlos Febles Helps Extend Red Sox Losing Streak," on BostonJournal.com. If folks didn't know who Boston's 3B coach was before, they do now.

Xander Bogaerts started playing rehab games.

Tyler Thornburg is still a ways away, according to @PeteAbe of the Boston Globe.
Chicago 

Cubs
Not only has Javier Baez played like a superstar thus far (7 HR, 24 RBI, 1.105 OPS) but so has Kyle Schwarber (6, 16, 1.048).

You've got to admire Javier Baez for his effort in trying to block Ryan LeMahieu's view of the catcher's signals to prevent sign stealing. That's a new one. (LeMahieu denied trying to steal signs, but there's practically no point in asking, as who'd admit it, anyway?).

There's been a lot of talk about Yu Darvish's struggles. But one thing to keep in mind: his last start was at Coors Field.

Chris Coughlin was a nice under-the-radar pickup. The former Rookie of the Year brings versatility. He's like another Tommy La Stella, without the pranks.

The Cubs began the year alternating a win and a loss for 18 games, and someone noted that that's the first time they did that since 2011. It's a little shocking they'd done that so recently. As the chances to do that are 217. Or not very high.

Gordon Wittenmyer of the Chicago Sun-Times has the story of how a misguided bunt by Baez inspired Jason Heyward to make the most important speech in Cubs history during Game 7 of the 2016 World Series.

Hitting coach Chili Davis said the at the start of the season that he felt good about where Jason Heyward was, and Heyward looks improved to this point.

No matter what Gleyber Torres does, the Cubs should have no regrets. Without that trade, they could be at 110 years without a World Series title.
Chicago 

White Sox
Best wishes to Danny Farquhar, who remained in critical but stable condition in the hospital following a brain aneursym. Peter Gammons, who suffered an aneurysm 12 years ago, spoke words of encouragement.

The White Sox have gotten only three home runs from the outfield so far. Good thing they have a plethora of OF prospects coming: Eloy Jimenez, Luis Robert and Blake Rutherford. One more OF sleeper for the White Sox is Micker Adolfo, 21, out of the D.R.

Yoan Moncada, despite a slow start, is up to a .500 slugging percentage, which shows his immense talent.

Reynaldo Lopez looks good early, but Lucas Giolito has taken a step back.

Michael Kopech has a 34.1 percent strikeout rate, notes James Fegan of The Athletic.
Cincinnati Reds
Interim Reds manager Jim Riggleman is expected to get at least a few months to show whether he can possibly turn things around. Based on how the team looks early, it won't be easy.

While the Reds extended Eugenio Suarez, there's been no move to do the same with Scooter Gennett, and one rival exec predicts he'll hit the trade market this summer. The Reds made a nice pickup to get him off the scrap heap from Milwaukee, and he rewarded them with a huge year out of nowhere. However, their top prospect is Nick Senzel, who's in the process of learning second base following the Suarez extension (though oddly enough, he's played almost as much third in the minors).

The rival exec did like the Suarez extension, which should be good news for the Reds, who have had some questionable ones in recent years, especially for the team that plays in the smallest market in baseball.

Joey Votto has at-bats to remember, and the one where he fell behind 0-and-2 to the 101-mph-throwing Jordan Hicks, but took four straight balls – three of them barely out of the strike zone at 99 mph plus — was one of them.

This really wasn't Price's fault. Injuries hurt. Price managed 666 games, and he only had the projected starting lineup at his disposal 34 times.

Decisions that went awry, and in some cases made little sense for baseball's smallest market, are really the culprit. Several bad trades were made, and several misguided signings were made, too – ones that made little sense for a market the size of Cincinnati. Giving $86 million to Brandon Phillips, who became a virtual giveaway in his last two trades even though he whined that he was underpaid compared to superstar Joey Votto (he was wrong about that, and that kind of outburst is what's soured baseball execs on signing him; he has no job even after a decent season due to his rep as a malcontent who became oddly discontented when Votto got his big deal, as he told a Cincinnati magazine in one of the most damaging admissions in recent memory), is one of them.

In retrospect, one of the worst trades was sending Didi Gregorius to the Diamondbacks in a three-team trade that netted them Shin-Soo Choo. Choo had a very nice year for the Reds, who were trying to win at the time. But Gregorius – who interestingly was acquired for Arizona by the late Kevin Towers, who later wound up working for the Reds – has become a major star. The Reds incidentally had originally signed Gregorius for the grand total of $60,000.

They are in the process of deciding whether Jose Peraza will be their shortstop of the future. The jury's out.

The Reds also have been beset by some hellaciously bad luck. They not only have had many injuries but they've been multi-year injuries. Devin Mesoraco, who looked like he'd become a star, missed three years. Homer Bailey, who received an ill-advised $105 million extension, missed two. Anthony deSclafani is past a year now.
Cleveland 

Indians
Melky Cabrera is worth a try, as the outfield mix lacks depth. He gets $1 million while in the majors, plus $1 million in incentives.

Cabrera's former agents, the ACES agency, which is being sued by former employee Juan Carlos Nunez for back pay in a lawsuit that was filed in federal court in Brooklyn and makes all sorts of strong allegations of drug involvement (including involving Cabrera with Biogenesis and then concocting a phony Website in a harebrained scheme to get him off after he failed a drug test), and under-the-table payments, have filed a motion to dismiss. The motion is based on Nunez's conviction for his own involvement with drugs while under their employ. Nunez of course is claiming he only did what the Levinson brothers, the proprietors of ACES, instructed to do. Nunez's lawyers at Schlam, Stone and Dolan are filing a response. Assuming the Levinsons don't get the suit thrown out, oral arguments in the case will begin June 6 in the Brooklyn court. The Levinsons are involved in disputes with multiple other former employees as well, but the other ones are being handled by the union, presumably due to contractual clauses in those other cases limiting complaints to grievances.

Jose Ramirez had a rough start but now has seven home runs and six strikeouts, as Dani Wex pointed out on twitter, and a .557 slugging percentage.

Mike Napoli played five more years after being diagnosed with what was thought to be a serious hip injury, so credit to him. But his excellent career may finally be at an end after he suffered a season-ending knee injury chasing a foul pop in a Triple-A game. As Terry Francona said, he'd make a great coach.
Colorado 

Rockies
Adam Ottavino has three different sliders, and at least two of them look unhittable at times. He is going to be an interesting free agent. Which is why he made our list of top-40 free agents last week.

Carlos Gonzalez is expecting to be able to return as soon as his 10-day DL time has expired.

Good to see the David Dahl come-up. Hard to believe, after all his trials and tribulations, he's still only 24. He looks good so far.

Tom Murphy has gotten hot.

Kyle Freeland's seven shutout innings vs. the Padres were encouraging.

Jenny Cavnar became the first woman in 25 years to do play-by-play. Gayle Gardner did it in 1993.
Detroit 

Tigers
JaCoby Jones and Dixon Machado are providing youthful energy, and longtime stars Miguel Cabrera and Victor Martinez are said to be buying in.

Jeimer Candelario has looked terrific as a two-way player.

New manager Ron Gardenhire, an olderhire against the grain, is said to be setting a nice tone, too. (And let's not forget the success older managers have had in recent years: Bruce Bochy, Terry Francona, Dusty Baker, Joe Maddon, Terry Collins, etc.) And he isn't a guy who accepts losing easily.

Joe Jimenez has looked great in pen, though he is unfortunately just about alone.

Matt Manning, one of a few vaunted pitching prospects, recently began a game where his first 10 outs were strikeouts.

The Tigers finally have legit middle-infield prospects of their own. Dawel Lugo, who was previously unheralded and came in the J.D. Martinez deal, looks especially good. Isaac Paredes and Sergio Alcantara are also coming.

Here's a shocker: According to Sports Information Solutions (h/t Jason Beck of MLB.com), the Tigers had five of the top 19 hitters for hard-hit rate: Nick Castallanos (4), Dixon Machado (5), Victor Martinez (10), JaCoby Jones (16) and Miguel Cabrera (19).

Scouts see Auburn pitcher Casey Mize, with four plus pitches including a 97 mph fastball, as the likely No. 1 overall pick in a very deep draft filed with many standout pitchers. "If you asked thirty scouting directors, thirty would tell you it's Mize," said one of those scouting directors. While we didn't ask all 30, another one cited Mize's four plus pitches, 94-to-97 mph fastball and success in the best league as reasons he's the clear-cut choice. (Neither of these scouting directors is picking No. 1, so there's no guarantee, but there does seem to be a belief that there's a consensus.) "He's very consistent, he has real good stuff and he's been thriving in the best league," one of the scouting directors said. The Tigers haven't said which way they are leaning, but word is they are focused on pitching, which make sense in a draft filled with top arms. Scouting directors who tend not to rave about drafts (2005 was an exception) generally like this one for the unusual depth of arms. There's little debate who the No. 1 guy is, at least as things stand now.

The Tigers have had seven postponements. Stay dry.
Houston 

Astros
Gerrit Cole may be the pickup of the winter. He looks like a different pitcher pitching for a top team. He has thrown exactly seven innings all five of his starts, posting a 1.29 ERA and leading the AL with 49 strikeouts.

Players marvel at Charlie Morton. While he was the No. 5 starter, some of their players foresaw him as being in the top three in that rotation. Which is really saying something. Morton would have been higher on our list of free agents if not for his advanced age (34). But he still should get a great salary in whatever deal he does sign. The $14 million, two-year deal he got in Houston was one of the best free agent signings two years ago (We certainly did not recognize that at the time).

From here there was nothing wrong with Tim Anderson being pleased he stole a base down 5-0, but he upset Justin Verlander with his over-the-top celebration, to the point where Verlander made sure to pick him off. The message here is: Don't mess with Verlander.

On the mound, Verlander has been nothing short of dominant (3-0, 0.77 WHIP, 1.10 ERA). He should be a Hall of Fame lock.
Kansas City Royals
Los Angeles 

Angels
Mike Trout, always deadly on low pitches, led MLB with a .952 OPS in the lower third of the zone. Carlos Pena of MLB Network questioned why pitchers are still trying to get him out with low pitches, and we agree.

One tiny weakness early in Shohei Ohtani's game was the ability to hit a changeup. He did end an 0-for-15 slide vs. changeups by reaching out and poking a single against Johnny Cueto, who has one of the best changeups in the business.

Let's not forget about Andrelton Simmons. With all the (deserved) plaudits going to Didi Gregorius and the big debate on MLB Network about whether Didi is a "top-5" shortstop – MLB Network's The Shredder didn't have him in the top-10, but the shredder has been on the fritz for years – we forget how great Simmons is. Think there may be a little bit of an East Coast bias at play there.

Kole Calhoun's performance has slipped in recent years.

Mike Scioscia's record $50 million, 10-year deal will be up after the year, and he has a long and close relationship with Arte Moreno, never mind that the team is winning. While most teams wouldn't be inclined to spend $6 million (his 2018 salary) on any manager, it can't be ruled out that Scioscia could be brought back.

Albert Pujols is close to becoming the second player from the D.R. (Adrian Beltre is the other) to reach 3,000 hits. Of course, Beltre did it in his 30s. And according to his official age, Pujols is too, as he is listed as 38. Matthew Trueblood had a long and involved explanation about why Pujols may not be exactly the 38 he's listed at, and may actually be 40 or 41. Some of it has to do with past Pujols comments that seemed to suggest he's older, and part of it has to do with his past admission that his first over-the-fence home run came against Octavio Dotel, who is now 44. All of it was interesting – thought to be fair, no one has ever proven Pujols isn't 38, nor has he admitted he isn't 38.
Los Angeles 

Dodgers
Walker Buehler looked very good in his first career start. He threw five shutout innings vs. the Marlins before being sent back to Oklahoma City. Pedro Moura of The Athletic did a good story on the top Dodgers pitching prospect .

One scout suggested he detected a slight decrease in stuff from Clayton Kershaw. But we've heard that before. And he never seems to be anything less than fantastic.

Hyun-Jin Ryu, now healthy, has been impressing scouts out west.

The Dodgers have done a very nice job getting under the luxury-tax threshold. But if there are any regrets, it might be on passing on Justin Verlander (who wanted to come to L.A. at the time, along with his then-fiancee-now-wife Kate Upton). Of course, no one could have predicted this sort of resurgence for Verlander.

Joc Pederson's up-and-down play has some Dodgers people concerned.

Yasiel Puig hasn't put up big numbers, but team people believe he's hit in bad luck.

Many with the team were surprised Matt Kemp made the team. But give him credit. He lost 41 pounds, and earned the spot.

Minor league pitcher Manny Banuelos had an eight-strikeout game, his first since he was a Yankees prospect back on Aug. 2, 2011, as Bill Shaikin of the Los Angeles Times noted.

This would fall into the old Peter Gammons Boston Globe notes category "apropos of nothing," but at least two people found it amusing. Jon Weisman noted that two umps in that minor league game were named Eaton and Hamm.

Jesse Sanchez of MLB.com has the lowdown on the expected signings beginning July 2. The No. 1 prospect, Diego Cartaya, a catcher, is indeed expected to go to the Dodgers.
Miami 

Marlins
There are some who believe the Marlins will be very reluctant to trade star catcher J.T. Realmuto since he's basically their one remaining star. And if they do, one rival says he believes the Mets – the most frequently mentioned trade partner lately – are ill-equipped to pull of such a deal. "Realmuto should take two or three top prospects, and the Mets just don't have those type of players," the rival GM said. They do have that need, however.

Jarlin Garcia threw only four innings in spring training and didn't even appear to be in the rotation mix. But he has been a star so far. He's allowed only 10 hits in 27 innings.

Lewis Brinson was off to a rough start but he's shown a nice power streak in recent days. He's been coming early and working with Don Mattingly and hitting coach Mike Pagliarulo.

Drew Steckenrider picked up where he left off last year; he continues to dominate.

Meanwhile, veteran Junichi Tazawa could be a release candidate.

Dan Straily could be a few days away from his return. As Giancarlo Stanton's agent Joel Wolfe drolly pointed out after Straily suggested they were glad to have the players who didn't want to be Marlins gone, this is not "Dan Straily's team." And soon it will be.

Martin Prado may be a week away.

In preparation for having to vacate third for Prado, Brian Anderson is taking balls in the outfield.

Here's a name from the past: Wei-Yin Chen is making rehab starts. He tossed five scoreless in Class-A recently.

Joe Dunand, third base prospect at Class-A Jupiter, is off to a nice start. He was a high school star who once hit eight home runs in a row as a high school player

 

in Miami (the streak ended with a line single to left; I was there). Dunand is the son of Joe Dunand, who is now known as Joe Rodriguez (the father changed his name to Joe Rodriguez), half-brother to Alex Rodriguez, which makes him extra interesting, especially playing for Jeter's team (Jeter wouldn't let that affect him one way or another, it's just worth noting the coincidence). He played at North Carolina State, hitting 18 home runs as a junior, before becoming a second-round draft choice. He signed for about $1.2 million, which he negotiated himself, with A-Rod advising. Scouting director Stan Meek says he has "solid power" and is a "great kid," which everyone agrees with.
Jeter, who's famous for never admitting a weakness or giving an inch, suggested the team could contend in an interview with Bryant Gumbel on HBO. Marlins people thought an injustice was done by releasing the transcript ahead of the tape, which they saw as good-natured. A smiling Gumbel called him "delusional." Fort Lauderdale Sun Sentinel columnist Dave Hyde wrote that Jeter is "disingenuous, not delusional." Of course, Jeter had to know the team had no chance to contend this year. But he is just not a guy who will reveal or admit any weakness or flaw. That's just him.
Milwaukee Brewers
Coming off a spring training in which they won the Cactus League (for what that's worth) the Brewers have picked up where they left off. Their tremendous everyday team has easily compensated for rotation questions. They've won seven straight.

There was some controversy over Jeremy Jeffress taking what the union saw as a team-friendly deal this winter that included multiple team options. However, it's clear Jeffress didn't want to leave Milwaukee. He is 15-3 with a 2.45 ERA as a Brewer compared to 4-3 with a 4.76 mark elsewhere. He's also had some off-field substance issues and apparently feels comfortable with the Brewers. So perhaps in his case it made sense to play it safe.

Jeffress is one of five Brewers relievers with an ERA under 2.00, Brewers P.R. man Mike Vassallo points out.

Jesus Aguilar said he'd never hit a ball like he did in his walk-off against Junichi Tazawa of the Marlins. "Not even in Nintendo."

Lorenzo Cain homered in his triumphant return to K.C.

Christian Yelich looks fantastic.

Davey Nelson, RIP. People only have nice things to say about Davey.
Minnesota 

Twins
According to baseball savant, Byron Buxton is the fastest guy in the majors, followed in order by Trea Turner, Adam Engel, Trevor Story, Dee Gordon, Billy Hamilton, Derek Fisher, Scott Kingery, J.B. Shuck and Mallex Smith.

Phil Hughes was reinstated for a game at his old Yankees team, and he had a funny tweet about it. He wondered what was going on in the city when someone outside the team hotel referred to him as a "Yankee legend." That is a bit of a stretch.

Brian Dozier, free agent to be, had a 24-game hitting streak.

The Twins would be better off if they never scheduled the Yankees, especially in New York.

Joe Mauer, recent gatherer of his 2,000th hit, is a Hall of Famer from here.
New York Mets
The Mets may not have the type of prospects to swing a J.T. Realmuto trade, even if the Marlins are ultimately willing to deal him. But the Mets still do need catching depth.

As was mentioned on Twitter, there is one connection that can't hurt the Mets. Realmuto is repped by CAA, which has a longstanding and fruitful relationship with the Mets; the Mets' four most popular players are CAA clients: Noah Syndergaard, Jacob deGrom, Yoenis Cespedes (who is also repped by Roc Nation) and Tim Tebow. They also have Jason Vargas and Robert Gsellman.

It hasn't been explained why they've shown no interest in Miguel Montero, Geovany Soto, Ryan Hanigan or even Carlos Ruiz, yet signed Johnny Monell. They obviously like Monell personally, but he doesn't exactly have the track record of any of the others – or any track record, really.

Matt Harvey was correct when he said "I have to get my (stuff) together," upon being sent to the bullpen. And the Mets were correct to deliver some tough love at this point. Pitching coach Dave Eiland delivered the candid words, and it seems like Harvey took them to heart. While he said he was a "ten" on the 1-to-10 scale of being (ticked) off, at least he acknowledged he's the one to blame for his predicament.
Eiland's style of no punches pulled is a refreshing one. "We are here to win ballgames," was one of Eiland's comments following the move of Harvey to the bullpen.

Harvey understood he needed to make changes, but he continued to show signs of being a prima donna, even as a demoted reliever. He refused to be interviewed after his first two bullpen appearances.

Paul Sewald continued to be a surprise star.

Yoenis Cespedes was thinking of resuming his golf dates to try to regain his swing. He seemed energized and is contributing in other ways, but is striking out at an alarming rate.

Anthony Swarzak (oblique) had a setback, and may be a few more weeks.

A.J. Ramos was on pace to appear in 105 games, which is too many, and Jeurys Familia in 97 games, which is also too many. Anthony McCarron of SNY pointed this out.
New York 

Yankees
With Gleyber Torres up, it's hard to see much playing time for Neil Walker, who could become a trade candidate.

Brandon Drury reported improved vision, and was off on a rehab assignment.

Miguel Andujar is hitting like a superstar (he suddenly leads the AL with five multiple-extra-base-hit games, and what's better, he became the third Yankee to have extra-base hits in seven straight games, joining Mickey Mantle and Joe DiMaggio), so Drury may not get third base back immediately. It's possible Drury could also go to second base if Torres isn't doing well.

Meanwhile, Didi Gregorius continues his MVP candidacy.

Of Gregorius' 76 career home runs, 74 were pulled to right field. That is courtesy of Daren Willman.

So obviously the Yankees were the perfect spot for him. There's no word yet about long-term contract talks. But Gregorius is free-agent eligible after next year. A Yankees person opined to me that "Didi wants to be a Yankee." He has made no secret about that. But the feeling has to be mutual.

Kudos to scout Bernie Pleskoff, who's been pumping up Didi for years, predicting stardom. He was correct.

Giancarlo Stanton may have weathered his slow start. He had a 4-for-4 game vs. the Twins. To me, that's the definition of a "true Yankee" — someone who beats up on the Twins.

Aaron Judge had 13 home runs against Toronto alone since the start of last season.

The Yankees do have their eye on Diamondbacks star left-hander Patrick Corbin, who in effect nodded to them by saying publicly how much he and his whole family loved the Yankees while growing up in the upstate Syracuse area.

Some Yankees people are worried right now about their pitching, which has been pretty average to date. They are worried about Masahiro Tanaka, CC Sabathia and especially Sonny Gray, who hasn't been quite the same pitcher in New York that he was in Oakland.

Greg Bird should be out one more month.

Jacoby Ellsbury had a hip ailment, and now he is believed to have plantar fasciitis. Manager Aaron Boone said he does expect to see Ellsbury this year. Which is a pretty low standard if you think about it.

Commenting on the reaction he gets in the Bronx, Logan Morrison told Mike Berardino of the St. Paul Pioneer Press, "They didn't like the Gary Sanchez thing with the Home Run Derby (where Morrison said he should be in, and not Sanchez, since he had out-homered Sanchez to that point, 24-13). You can't fix stupid, you know?"
Oakland 

A's
Sean Manaea's no-hitter was very impressive, even if someone wants to claim the ball off shortstop Marcus Semien's glove should have been called a hit, and someone else wants to claim that Andrew Benintendi should have been called safe at first and not out of the baseline (we see that one pretty clearly). Whatever, to beat the red-hot Red Sox in that manner was pretty amazing.

And we love the way Manaea handled it. He even admitted he thought the ball of Semien's glove was a hit (at least at the time).

We also like his twitter handle of @BabySMGiraffe.

As Josh Rawitch, Diamondbacks P.R. person tweeted, Manaea's no-hitter was the first for manager Bob Melvin in his 2,093rd game managing. Meanwhile, it was opposing manager Alex Cora's 20th game.

Manaea's no-hitter was the first by an Indiana native since Don Larsen's perfect game in the 1956 World Series, noted Gregg Doyel of the Indianapaolis Star.

Jed Lowrie is still going strong.
Philadelphia Phillies
Gabe Kapler was long past his rough start, as the Phillies were the hottest team in the NL.

Aaron Nola has allowed two runs or fewer the last eight starts.

Hoby Milner, the guy who hadn't warmed up when he was called into the game, was optioned to the minors. Tough business.

Trevor Plouffe got $1.5 million if in the majors plus $150K incentives. He has outs in his contract. Maikel Franco is off to a decent, but not overwhelming, start (.706 OPS).

Robert Murray of FanRag predicted in his notes column that the Phillies would spend big next winter. We thought they did that this winter. But he means even bigger.
Pittsburgh 

Pirates
The Pirates forever were known as the team to go to for improved pitching performance (J.A. Happ, Ivan Nova, many, many others). But it's interesting to note that Gerrit Cole and Charlie Morton have actually gotten better after leaving Pittsburgh. (And they actually did it in the American League.) That's only two pitchers compared to a dozen or more that did better in Pittsburgh. But it's just interesting to note.

Pitcher Steven Brault has gone 25 games and 30 at-bats without a strikeout which is remarkable since he's a pitcher.

Joe Musgrove is working his way back.
St. Louis 

Cardinals
If Manny Machado hits the trade bock this summer, the Cardinals would seem to be a potential trade partner. They were one of the nine teams to have made a serious try for Machado this winter. So are the rival Cubs.

The Cardinals intend to give the closing job back to Greg Holland. It's nice to know Bud Norris is capable. And the 101-mph-throwing Jordan Hicks probably is, too.

To have not one but two later-bloomers is really amazing: take a bow Tommy Pham and Jose Martinez.

Yadier Molina is showing some impressive power.

Miles Mikolas has three wins…and only two walks.

Adam Wainwright's continuing injuries have to be concerning. The latest is his elbow.
San Diego 

Padres
Ken Rosenthal of The Athletic took a look at Big League Advance and the business of providing up-front money to minor leaguers/young players with the promise to repay a percentage of future earnings. Fernando Tatis, who's expected to be a huge star, is said to have done a deal for $2 million. Not to pry, but while this is certainly an interesting option for young players from modest means, the obvious unanswered question would be why Tatis Jr. would need to hedge his bets.

Eric Lauer had the misfortune of making his MLB debut at Coors Field.
San Francisco 

Giants
One scout on the Giants: "They're not very good."

They certainly are improved. But the question is: How much?

It may not be a great sign that they are below .500 while having the pitcher who's been the best in the league to date (Johnny Cueto).

Cueto tried to negotiate something with his opt-out last winter, but the Giants weren't about to enhance anything off his injury-wracked season. Cueto's timing was just bad; there was no way he could opt out last winter. However, if he had an opt-out this winter, he'd be golden. That 0.35 ERA to start the year is pretty special.

Brandon Belt's 12-minute, 21-pitch at-bat was truly amazing. Legend has it that Luke Appling would have such ABs regularly, and Keith Olbermann brought up the legend.

Andrew Baggarly did a nice story for The Athletic on Belt's historic at-bat, which was the longest since they began keeping track of such things in 1988.

As Jesse Sanchez reported, No. 2 overall prospect Marco Luciano, an outfielder, is expected to sign with the Giants in the period beginning July 2.

Of their 74 runs, 42 have come via the home run.
Seattle Mariners
Tampa Bay 

Rays
Chris Archer "hasn't helped his value" with his slow start. His 6.59 ERA shows inconsistency, but he still does seem to still have substantial value (even if it's down a little), as execs believe in him, despite numbers that may not illustrate his true talent.

Carlos Gomez is thought to be "putting too much pressure" on himself. He became the latest to snap a bat over his knee, but hit a walk-off homer later in that game.

Gomez stirred a little controversy with one of his out-there celebrations. It certainly was enthusiastic, but the only thing we'd quibble with was the Ray Lewis dance at the end (we just aren't big Lewis fans). Marc Topkin of the Tampa Bay Times has a story on the celebration, in which Gomez says the victim of the walk-off, Twins pitcher Addison Reed, hugged him in the tunnel afterward. No Twins have said anything negative yet, but remember that this is a team that didn't like it when Chance Sisco bunted against the shift down too many runs (in their estimation).

Nate Eovaldi (elbow) is shooting for a late-May return, via Topkin.
Texas 

Rangers
Rumors were starting that Jeff Banister might have the warmest seat among managers now that Bryan Price was let go, but GM Jon Daniels shot that down in unambiguous language. According to Daniels, a change "hasn't been considered or discussed."

Bartolo Colon never ceases to amaze us. But beating Dee Gordon to first base was a surprise. Of course he had a shorter route. But still.

Adrian Beltre can still hit (.310), but nagging injuries have been a bane in his later years. A hamstring is slowing him at the moment.
Toronto Blue Jays
Josh Donaldson has missed significant time with what's said to be a shoulder concern. But when he plays, he's been one of the most impactful players in the game. While his age (32 now) means he's below the very top tier of this exalted free-agent market, which includes Bryce Harper, Manny Machado and Clayton Kershaw, he is a big-time player who'll command a big price. We've done derbies for Harper, Machado and Kershaw, so here's one for Donaldson, who should also be a nine-figure player presuming he puts together a meaningful season.

There was a strong response to my inclusion of the popular John Gibbons on the list of managers on lukewarm seats. There was no doubt he's popular for his down-home candid style, and we found out just how popular.

Gibbons said Teoscar Hernandez has nothing left to prove in the minors And indeed, he's been thriving with the Jays.

The Dunedin spring site is getting an $81 million facelift. From here, that may not be enough.

Curtis Granderson is off to a great start.
Washington 

Nationals
There's no sense that there's any likelihood of a deal to prevent superstar Bryce Harper from becoming a free agent. While the Nats surprised folks by locking up star pitcher Stephen Strasburg in the season before he was the become a free agent, Harper is believed to have strong interest in the free agent concept, which should come as no surprise to anyone who's spent time around him.

Harper was showing his usual April power.

Harper already has 30 walks, which puts

 

him in all-time territory.

Max Scherzer is off to his usual nice start as he pursues his third straight Cy Young award (and fourth overall), which would clinch Hall of Fame status.

There's evidence to suggest that maybe Ryan Zimmerman has been mostly unlucky. Heading into the week, he was 12th in hard-hit rate according to Sports Information Solutions.

The Reds fell apart right after firing Dusty Baker following a first-round playoff entry. We do not exact the same expectation for the Nats (Davey Martinez was our Manager of the Year call). But they are definitely not off to the start we expected, either.

It's hard to believe, considering the brilliance of Harper and Scherzer, that they are under .500. "That lineup just doesn't look the same without Daniel Murphy, Anthony Rendon and Adam Eaton," one scout pointed out.