Heyman | Early look at the Josh Donaldson market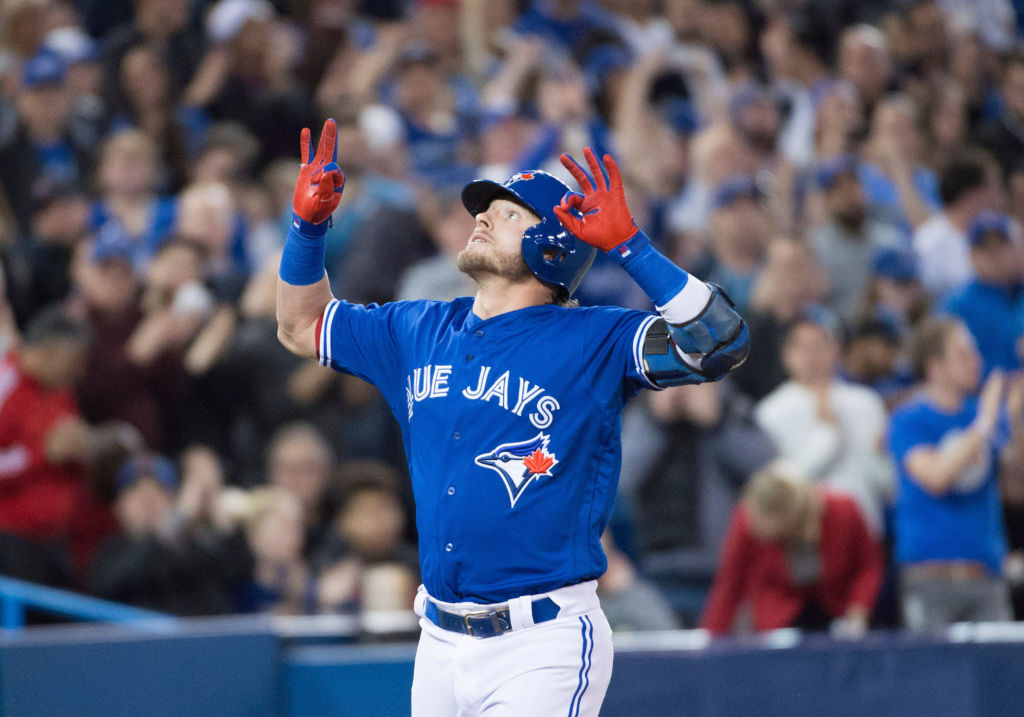 Josh Donaldson has missed significant time with what's said to be a shoulder concern. But when he plays, he's been one of the most impactful players in the game.
While his age (32 now) means he's below the very top tier of this exalted free-agent market, which includes Bryce Harper, Manny Machado and Clayton Kershaw, he is a big-time player who'll command a big price.
We've done derbies for Harper, Machado and Kershaw, so here's one for Donaldson, who should also be a nine-figure player presuming he puts together a meaningful season. It was suggested here that Charlie Blackmon's $94 million, five-year deal (in new money) may be a reasonable template considering similar ages and numbers that are reasonably similar (though it is fair to say Donaldson has a bigger rep, has a better WAR and doesn't have to explain his home park). But third base is a tougher spot, as has been seen the past two winters, when Justin Turner and Mike Moustakas both wound up returning to their old teams.
That's not too likely to happen in the case of Donaldson, so here's our list:
1. Cardinals
They have been tied to both Donaldson and Machado, but Donaldson more often. That they didn't pay for Moustakas may not necessarily all be about a belief in their current guy (Jedd Gyorko), though it may be, but it could mean they are waiting on Machado or Donaldson. The Jays' trade talks with the Cardinals are well-documented.
Odds: 3:1
2. Phillies
It seems like this is Maikel Franco's last chance with the Phillies, who are known to like Machado very much. The Phillies were made here as the favorite for Machado based on current Phillies' executives close relationship with the Orioles superstar from their days together in Baltimore. But there's certainly no guarantee they land Machado, and Donaldson makes a nice fallback option. They also aren't above signing 30-plus players, as we saw with Carlos Santana and Jake Arrieta, either.
Odds: 7:1
3. Braves
New Braves GM Alex Anthopoulos brought in his old Jays player Jose Bautista for this year, but the Braves could need someone starting next year. They have a prospect for third, Austin Riley, but he may be a a couple years away, and while he's highly regarded, he's unproven. Anthopoulos made the great trade to land Donaldson for the Jays, and both men surely have positive feelings from that transaction/experience.
Odds: 8:1
4. Jays
They obviously have been the beneficiary of a very successful trade with the A's, as Donaldson's star certainly has risen in Toronto. Mark Shapiro's teams have not been known for spending a large percentage of payroll on one superstar, and his track record for big deals could explain his reticence – Travis Hafner, Jake Westbrook, Grady Sizemore and most recently Kendrys Morales all look like overpays now for a variety of reason.
Odds: 10:1
5. Orioles
They are going to need someone to replace Machado, and while we'd recommend the Orioles start a rebuild, they certainly aren't anything close to predictable.
Odds: 15:1
6. Rangers
They could wind up signing the beloved Adrian Beltre for one more year, but they could gain seven years by going for Donaldson, who brings extra power and could be a fit.
Odds: 20:1.
7. White Sox
Third base could still be a question, and they could be ready to win (or at least close).
Odds: 25:1
The Field
The Yankees look like they may have found their third baseman of the future in Miguel Andujar. The Red Sox have Rafael Devers at third and J.D. Martinez to DH; the Dodgers have another year with Justin Turner and the Giants have three more years with Evan Longoria. So it isn't exactly a big-market bonanza at third.
Odds: 4:1