Murray Monday | NL exec highly critical of Bryce Harper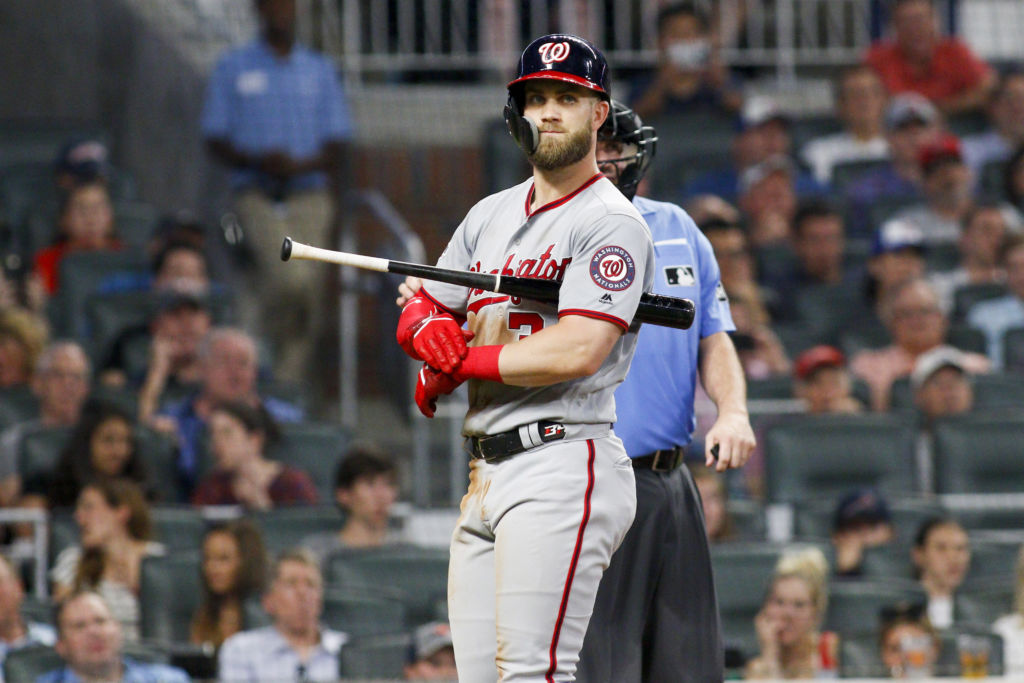 We're right in the thick of the regular season, and there are plenty of things that jumped out. Here's what I'm thinking and hearing:
One GM candidate standing above the rest:
Around this time of year, you start to get a feel for who the top candidates to become general managers are. Among the names that have been mentioned in media circles are Chicago Cubs' Jason McLeod and Toronto Blue Jays' Ben Cherington.
McLeod, in the words of one baseball person, is "a stud." There have been rumors that he'd stay in Chicago, but "now that they have won, he's good to go," someone who knows McLeod said.
He'll be coveted, and rightfully so. But there is another candidate garnering plenty of attention from baseball people: Milwaukee Brewers scouting director Ray Montgomery.
"He'll be at the top of most teams lists," one executive opined.
People that know Montgomery rave about his leadership and people skills, as well as his ability to scout, using both analytics and a keen eye to evaluate players.
When the Brewers were able to snag Montgomery away from the Arizona Diamondbacks, it was a coup. Word is, he's one of the people most gravitate towards in their front office. "He's a star," one Brewers person said.
He's one of baseball's top young executives. After years of being passed over, this may finally be the year he becomes a GM.
Updated: Bryce Harper…overrated?
Last week, I was asked whether Washington nationals superstar Bryce Harper was overrated. I gave my answer, then I received three text messages from a top National League executive with his answer:
Text one: "He's simply overrated. The good ain't worth the bad. He's a losing player. Cares about himself more than the team. If I was in charge and had money, my team would not pursue him. We would use that money to sign 2-3 winning players."
Text two: "He's a losing player. I would not sign him. I would use that money to sign 2-3 winning players."
Text three: "If he gets more than 10-years, $300 million, I'd be surprised. I would not give him 10 years period and certainly not at that AAV. He's just not worth it. He's a selfish, losing player."
The comments are certainly strong – and he didn't hold back. Some others throughout the game see it the same way, while others disagree.
"He's a generational talent. Why wouldn't you at least kick the tires?" another executive asked.
He is a generational talent, yes. But Harper's struggles this year are noteworthy — .228 average, .360 OBP, 0.9 WAR — and a reason why some view Manny Machado as the player to target of the two.
Harper is still expected to have plenty of suitors in free agency and is very likely to land a deal of at least $350 million. But the concerns surrounding him are becoming louder.
Who represents the top 78 picks, by the numbers
Excel – 8
Jet Sports – 7
Boras Corp – 6
Ballengee, CAA, Legacy, Sosnick, Cobbe & Karon, ISE – 5
ICON, MVP Sports Group – 4
Wasserman Media Group – 3
ACES, Paragon, Bledsoe, Rep1 – 2
Warner, Frontline, Lagardere, Meister, Octagon, Will McGuffey, Full Circle, Kevin Hubbard, Magnus, PSI, Reynolds Sports, SMC & Associates, TWC – 1.
Follow your favorite teams and players: Download theScore App.
Brandon Crawford having a career year in San Francisco:
For a guy who's first career big-league hit was a grand slam, Crawford wasn't exactly known for his bat in the first few seasons of his career. Mainly a .240-.250 hitter, he earned his money with elite defense at shortstop.
This year, however, has been a whole different story. The defense has remained excellent and the hitting has followed — .338 average, eight home runs, 30 RBI with career highs in OBP (.385), SLG (.536) and OPS (.921).
His excellence was put on display on Sunday versus one of the leagues best, Washington Nationals' Max Scherzer. The result? 4-4 (3-3 against Scherzer) with one home run and two doubles.
Since the start of May, he's hitting .439. If he keeps this up, do not be surprised to see Crawford's name thrown in the MVP discussion.
Shohei Ohtani:
The night of Ohtani's injury, I went on-air with Roger Lodge in Los Angeles to talk about him. What's not to like? He's exciting, refreshing and extremely good at what he does.
Then, bang. The Angels announce Ohtani suffered a grade 2 sprain of the UCL. As a result, he underwent PRP and Stem Cell injections and will be re-evaluated in three weeks.
On Monday, ESPN's Pedro Gomez went on SportsCenter and said the following: "Everything I'm hearing is that the reality is, he probably will need Tommy John surgery. The earliest we might see him, should he have Tommy John surgery, would be the 2020 season."
I have not been able to independently confirm. I do know that the fear was that he'd need Tommy John.
The elbow concerns are nothing new for Ohtani, however. Yahoo Sports' Jeff Passan reported at the time of Ohtani signing in Los Angeles that he had a Grade 1 sprain of the UCL and received a PRP.
The tear, evidently, got worse.
If Ohtani needs Tommy John surgery, it's not only a tremendous blow for a team that is trying to keep up with the Seattle Mariners and Houston Astros in a competitive American League West. It's a blow for the entire game of baseball.
Other things I'm thinking:
San Diego Padres' Brad Hand should garner quite a bit of trade interest for the second consecutive year.
Kansas City Royals' Kelvin Herrera is another name that is going to get trade interest.
The Milwaukee Brewers are going to get a starting pitcher at the deadline. I think they'll go searching for a big name.
The Kyler Murray pick getting scrutiny from scouts. Two scouts I talked to have a fourth-round grade on him while others had second, third- and fifth-round grades on him.