Inside Baseball | As Interest in Machado rises so does price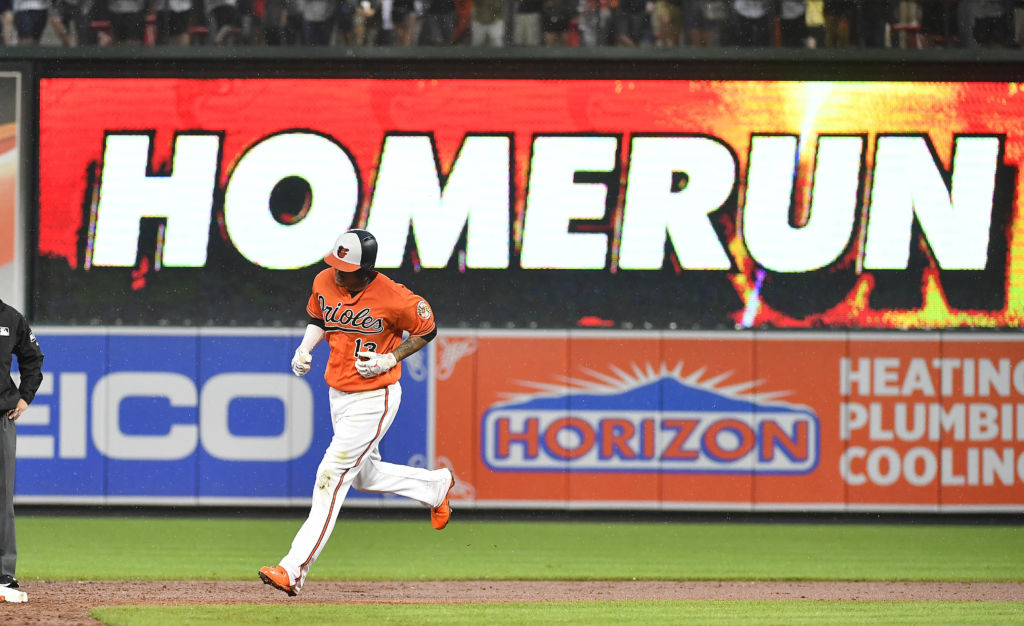 The Baltimore Orioles are now engaging with teams regarding superstar Manny Machado, including the very logical trade partner, the Phillies — but if anyone thinks the price tag is heading down from the winter based on games having come off the schedule, well, just check the league's leaderboards.
"We don't need to negotiate in the press," Orioles GM Dan Duquette says of the player with a .326 batting average and 1.021 OPS, "but I can tell you there are more teams interested now (than the winter). If you're interested in making an impact, this is the player."
The Phillies love Machado and have indeed reached out, and seem like a favorite over others (and could be part of an NL East battle; more on that below). One Phillies-connected person suggested the Orioles are asking for four young players, and that at present, the price is "too steep."
Duquette declined to get into any of that.
It may simply be too early for a trade. Word at this point is that the Orioles haven't had even one talk yet with the Braves, and insiders suggest they believe Atlanta is a potential match considering their excellent prospect stash and potential need at third base.
One Orioles-connected person said either team would be a "perfect fit."
And while there are more teams showing interest than before, thanks to some surprise contenders, some could see this turning into an NL East battle. Ultimately, the Phillies probably make the most sense. They are getting virtually nothing out of shortstop (their shortstops are last in both runs and RBI and tied for 26th in OPS at .628, coincidentally the same mark as the Padres, who are employing ex-Phillie Freddy Galvis there). But Machado is an all-time great third baseman, so he'd also fit with the Braves, who currently are using Johan Camargo at third – though a Braves-linked person says third base is "not a black hole" for them, and besides, if Camargo slumps from his average early production, they also have a top third base prospect in Austin Riley.
It isn't known exactly what the Orioles are seeking from the Phillies for Machado, but one source said the price is too high considering there's no guarantee they'd be able to keep Machado – though, of course, it must be noted that it's not uncommon for contending teams to believe initial asking prices are unrealistic.
The Orioles seem focused on both pitching and infield help – which makes sense, since they'd need to replace Machado – and they much prefer players who could help soon. The Phillies have some candidates to trade there, with third baseman Maikel Franco, young shortstop J.P. Crawford and two second baseman in Scott Kingery (currently filling in at short while Crawford's out) and Cesar Hernandez. The Phillies also have top pitching prospects, like Sixto Sanchez, but he's further away.
Though the Dodgers and Cubs drew early speculation here and elsewhere as a possible suitor for Machado, ultimately the Phillies probably make the most sense as a landing spot for the biggest star likely to be dealt this trading season – either via trade or eventually as a free agent. Beyond that, the Philllies were speculated here last week in a list of 12 mock trades and Phillies people love Machado from their days back in the Orioles organization. Plus, the Phillies haven't gotten much at shortstop this year.
The Phillies also make sense as a team in the race, despite some recent struggles (more on that in Inside Baseball notes), but they also may be reluctant to overpay as a team that may yet be a year away from becoming a legit World Series contender. If the Phillies aren't the favorite now, they may be the free-agent favorite for Machado.
Follow your favorite teams and players: Download theScore App.
Sources say the Phillies are planning to be big players for Machado as a free agent, and sources say they have plenty of money to spend, as their revenues still far outstrip their expenses even after the free agent signings of former Machado teammate Jake Arrieta and Carlos Santana over the winter.
"It isn't a matter of whether we have the money. The question is, 'Will they come?'" one Phillies person said.
The Phillies' attractiveness has been questioned before (even by their own people, following their steep fall after their mini dynasty that culminated with their World Series title a decade ago) but likely increased this season with the team's obvious improvement, and word is team higher-ups – including enthusiastic owner John Middleton, who is now running the show — are determined to improve the team next winter, when the mega market hits MLB. One person with Phillies ties said Machado tops their free-agent wish list, but he wouldn't rule out a run at both of the two positional superstars – Machado and Bryce Harper – though that would seem like a stretch, even with their big, new, billion-dollar TV deal.
Machado made clear that he prefers and expects to play shortstop in a late-spring interview with FRS Sports (link to those notes), and the Phillies would be one team able to accommodate that preference, as top prospect J.P. Crawford struggled before going out with injury (Crawford is a very good defender who's liked by Phillies people due to his knowledge of the strike zone, but one NL scout said he "didn't know if he'd ever hit").
More important is Phillies' people love of Machado, which is vital. Phillies president Andy MacPhail, GM Matt Klentak and top execs Scott Proefrock, Ned Rice and Joe Jordan (the scouting director who drafted Machado third overall) are said to love Machado, just as they loved Jake Arrieta, also from Orioles days; they wound up signing Arrieta for $75 million over three years in a rare big free agent pitcher signing that's worked so far.
The Orioles are said to prefer players closer to the big leagues, and their winter price regarding Machado was said to be something along the lines of Atlanta's Jason Heyward deal, where they got back two pitching prospects, including one big one (Shelby Miller). That seems quite reasonable.
And it's not unreasonable that the price may have risen from the winter – when the Yankees, Red Sox, Cardinals, Indians, White Sox and Diamondbacks joined the Phillies, Cubs and Dodgers as interested teams.
But speaking of reasonable/unreasonable, it's still an unknown whether longtime Orioles owner Peter Angelos will ultimately agree to a Machado deal. Angelos is well known for his desperate interest in holding onto his stars, sometimes even stars that are about to become free agents.
Rival teams suggest the Orioles "have to" trade Machado considering his high value, their position at the bottom of an impossible AL East division and their need to re-stock their system, and it's believed the O's baseball people understand this – though they have surprised us before with their reluctance to deal stars (link to a recent column).
Angelos has always been a "wild card," a mercurial owner who falls in love with his stars and is often intractable in his unwillingness to trade them.